The Chocolate Jewel Case (Chocoholic Mysteries)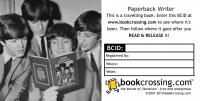 Registered by

Bookworm-lady

of
Madrid
,
Madrid
Spain on 10/3/2016

This Book is Currently in the Wild!
3 journalers for this copy...

Journal Entry
1
by

Bookworm-lady

from
Madrid
,
Madrid
Spain on Monday, October 03, 2016
"Lee and Joe are newlyweds, but you wouldn't know it. Joe works late, and Lee has a major crisis when the air-conditioning goes out in TenHuis Chocolade. Then the houseguests from hell arrive; that's seven people with one bathroom, before the arrival of the man claiming to be Joe's father, who has been presumed dead for thirty years."

A present for a Birthday Group member who has it in her WishList.
---

Journal Entry
2
by

Bookworm-lady

at
Madrid, Madrid Spain on Monday, October 10, 2016
Sent today to a Birthday Group member who has it in her WishList.
This is a belated birthday present; sorry for the delay. I still hope you'll enjoy the book and assorted goodies.
---
Got here today.

Thanks for the goodies that came along with the book, i am looking forward to read it :)
---
I love cozy mysteries – they're fun to read, have a bit of complexity in their mysteries and yet, they read so easily, as the pages turn by themselves! This book is no exception to this and I had a great time reading it. I don't have much to say, as it's a good book, not too long to read and had great facts about chocolate. I'll definitely be on the lookout for more books in this series!

---
Journal Entry
5
by
carelaisa
at
Oppem's Birthday RABCK group, RABCK -- Controlled Releases on Sunday, December 03, 2017
Released 1 yr ago (12/3/2017 UTC) at Oppem's Birthday RABCK group, RABCK -- Controlled Releases
CONTROLLED RELEASE NOTES:
Send along with some goodies, for a birthday :)

Hope everything will be liked!
---

Thank you, carelaisa! I love cozy mysteries too, never met one I didn't like. ;-) Especially if chocolate is involved.

I look forward to reading it and I appreciate your thoughtfulness. Will be great to drink some of the tea you sent, while reading it!
---

Fun! I'm not reading this series in order: read the first one, I think it was, a few years ago, and this one is the seventh. But I didn't feel as though I missed anything important – it stands alone quite well.

Reading about chocolate does tend to make one's mouth water! Glad I finished the book before starting my diet! 😊

The mystery was good, with an interesting cast of characters and enough plot twists to keep me guessing. Lee should be nominated for sainthood – being newly married to Joe and suddenly having the house filled with several guests whom she has to feed, in addition to her usual work at Ten Huis Chocolade…in a rare Michigan heat wave. With no air conditioning in the house, and the shop's AC not working, tempers flare and lots of chocolate risks being destroyed. Talk about stress! And (maybe here is where I may have missed something by not reading the intervening books) new husband Joe doesn't seem very attentive or helpful. Unless his introduction in an earlier book highlighted some of his good qualities, I don't think he's much of a catch – he certainly did not impress me in this book!

This was a quick, enjoyable read. I really like Ms. Carl's writing style.

Thanks again, carelaisa (and bookworm-lady)!

---

Journal Entry
8
by

eponine38

at
Little Free Library, Grayson Rd. in Winchester, Massachusetts USA on Wednesday, February 14, 2018
Released 1 yr ago (2/14/2018 UTC) at Little Free Library, Grayson Rd. in Winchester, Massachusetts USA
WILD RELEASE NOTES:
Left at about 4:30. Hope it finds a new reader!
Released for
Keep Them Moving Challenge
hosted by booklady331.
Released for
2018 Valentines Challenge
hosted by awaywithfairies.
Welcome to BookCrossing!
Please make a journal entry so we know this book has found a new home.You don't need to join BookCrossing and you can remain completely anonymous. However, we encourage you to join so that you can follow this book's future travels. (You'll receive an email anytime someone makes a journal entry). It's fun, free, and confidential. If you decide to join, consider listing eponine38 as referring you.
Take your time reading the book, and after you finish, please make another journal entry to record your thoughts about it. This book is now yours, and you can keep it if you choose, though we would love for you to share it. If you pass it along, please make a release note to let others know where you left it "in the wild", or a journal entry if you gave/sent it to a known person.
I hope you enjoy the book!
---