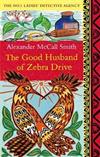 The Good Husband Of Zebra Drive (The No. 1 Ladies' Detective Agency)
Registered by

MrsPeel

of
Therwil
,
Baselland
Switzerland on 5/14/2016
2 journalers for this copy...

I bought this one in the 2016 English Book Sale at the Basel West Library for reading and releasing.


--Registered in Basel-Land, Switzerland--
---


I started reading this almost a month ago, when I needed something fun to read to offset the drama I'm reading on my kindle. I usually fly through one of these books in 24 hours, but I didn't get much reading done while my parents were here on a visit, so I've just finished.

The book was a good read, as they always are. Many of the characters are wondering if they should make a change in their life, which causes some friction in the office with those who like things the way they are.

---


I plan to leave this somewhere in Legoland today...

Actually I left it on Tuesday on a bench in Mini Land. I saw a lot of people looking but no takers. Hopefully someone will grab it and take it home. :)



Dear future readers of this book,

Thank you so much for coming to the website to check out where this book has been!

Now that you're here, I'd really appreciate it if you write a journal entry right away. It is just a little note to let the book's past readers know that the book is safe, and where you found it. You can always add another one later if you would like to share what you thought of it, and whether you will keep or release it.

Thank you for sharing this book's journey! :)

MrsPeel


Deutsch:

Liebe zukünftige Leser dieses Buches,
Willkommen bei Bookcrossing! Vielen Dank für zu der Website kommen, zu herauszufinden wo dieses Buchs hat gereist! Ich würde es wirklich schätzen, wenn Sie jetzt einen Journaleintrag schreiben. Es ist nur eine kleine Notiz fur andere Lesern des Buches zu wisst, dass das Buch ist sicher, und wo Sie es gefunden. Es ist auch gut zu wissen, wenn Sie genossen es zu lesen, und wenn Sie es gehalten oder freigegeben.

Vielen Dank, viel Spaß!
MrsPeel
---
Found the book at legoland in Germany. Brought the book to Norway.
---