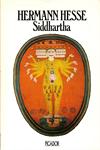 Siddhartha
Registered by

Stoepbrak

of
Cape Town
,
Western Cape
South Africa on 6/13/2017
1 journaler for this copy...
Journal Entry
1
by

Stoepbrak

from
Cape Town
,
Western Cape
South Africa on Tuesday, June 13, 2017
Synopsis (credit: back cover)
Siddharta, the son of a Brahmin, finds the Buddha, but is not content to serve simply as a disciple: he needs to work out his destiny for himself.
On the
1001 Books You Must Read Before You Die
List.
(Bought second-hand at the Well Read Books Pop-up Shop, Gardens Centre, Gardens.)
---

The book may be thin, but there is a lot to ponder about as one follows Siddhartha on his journey. Would it help if I pen a list of quotations?

"All this had always been and he had never seen it; he was never present."

"Writing is good, thinking is better. Cleverness is good, patience is better."

"But he learned more from the river than Vasudeva could teach him. He learned from it continually. Above all, he learned from it how to listen, to listen with a still heart, with a waiting, open soul, without passion, without desire, without judgement, without opinions."

"From that hour Siddharta ceased to fight against his destiny. There shone in his face the serenity of knowledge, of one who is no longer confronted with conflict of desires, who has found salvation, who is in harmony with the stream of passion, surrendering himself to the stream, belonging to the unity of all things."

By means of a simple fable the author explores many of the principles of a Buddhist lifestyle.
---