Ready Player One
Registered by

ghir

of
Honolulu
,
Hawaii
USA on 4/19/2016
3 journalers for this copy...

FOL Hawaii Kai purchase.

In the not-so-distant future, the creator of an operating system called OASIS that revolutionized the Internet through virtual reality dies without heirs and leaves a posthumous announcement of a contest/game/quest. The first person to solve the puzzle will inherit his fortune, including control of OASIS. In a world of increasing turmoil and violence as employment opportunities and natural resources are exhausted, many people spend entire days immersed in the virtual world. The contest becomes a vocation for gamer nerds, but they are also competing against hirelings of a corporation that wants to own OASIS. Basically, a fantasy for all the nerds who hope that being expert at playing video games and quoting dialog from movies might have a practical purpose.

I really enjoyed this, but wonder if this is as much fun for people who didn't grow up in the 80s (as the creator of the game supposedly did). Plus, they had me at, "People who live in glass houses should shut the fuck up."

To TOC, 05/14/16.
---


Hardcover with dust jacket gratefully received during our delicious TOC lunch at Tucker & Bevvy.
I've been hearing about this one and meaning to give it a try. Now that I have it in hand, I guess I don't have any more excuses..
(Larger photo
here
- after following link, click on image to zoom.)
---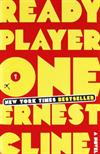 Well, it only took me almost two years to get around to reading this...but I'm glad I did. I got enough of the pop-culture & gaming references to enjoy it a lot, even if a few of the plot points weren't exactly surprising. Seeing a reference to
Kikaida
(even with the Americanized "Kikaider" spelling) was an unexpected surprise, since he was huge here
in the '70s
- that was when I learned to appreciate subtitles! I guess that may have been one of the few times a trend moved from Hawaii to the mainland rather than the other way around...
This should be a fun movie, although I probably won't see it in the theaters. One small nit to pick: "Toshiro Yoshiaki" sounds to me like a guy with two first names. I loved the bit about Parzival's vehicle when he goes to Og's party - the whole description of how he's customized it, and then what happens when he parks.
Adding the cover image here in case the Gremlins (that's a reference I don't remember being in the book...but I did have a plush Gizmo, and never fed him after midnight) decide to change the image shown here to a movie tie-in version...
I'll be sending this to croyd, who at one time had all the dialogue for The Breakfast Club memorized (that's what VCRs were for)!
(Adding this here so I don't lose track of it: Andy Weir's fanfic that became canon: a short prequel to Ready Player One that should be read AFTER the book...Lacero).
I'll count this as my Oklahoma read for the 2018 version of NancyNova's
US States reading challenge
.
---

Not actually sure when this one was released; mailed to Arizona.



~ ~ ~ ~ ~



I'm so glad you've found this book!

Please take a moment to make a journal entry and let this book's previous readers know that it's safe with you.

How and where did you find the book? What did you think of it? What are you going to do with it next?

It's now your book, for you to do with as you please: keep it, pass it to a friend, or maybe even leave it where someone else can find it!

If you've ever wondered where your books go after they leave your hands, join BookCrossing and you may find out: you'll be able to follow your books as new readers make journal entries - sometimes from surprisingly far-flung locations.

BookCrossing: making the whole world a library!
---
great fun, tons of amazing memories for me, great

---