No Picnic on Mount Kenya: A Daring Escape, A Perilous Climb
Registered by

hyphen8

of
Honolulu
,
Hawaii
USA on 5/9/2016
This book is in a Controlled Release!
3 journalers for this copy...


This book followed me home from the 2014 Hawaii Book & Music Festival: larger photo
here
.
Note: the physical label inside this book may not match the label image next to the book cover at the top of this journal entry - somehow my store order generated LOTS of extra numbers!
This is both a mountain climbing adventure and a prison break story: the author was an Italian prisoner in a British POW camp during WWII who broke out of prison to climb the second-highest mountain in Africa.
---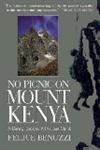 TBR, but
reserved for booklady331's
US Non-Fiction VBB
(round 3).
May 2016: reading it now...
---

So you're a POW and you're really, really bored. What to do? There's no realistic possibility of long-term escape, but you make a plan to escape - temporarily - so you can climb a mountain!
Quite an adventure: with home-made equipment, and with virtually no food, these men attempted a climb that few had successfully achieved before them.
I don't think they make POW camps like that any more...but Benuzzi and his companions were pretty special.
I'll count this as one of my Africa reads for kiwiinengland's 2016
Around the World Reading Challenge
.
---

This was dropped in a mailbox, probably on 6/11. Headed out via media mail to booklady331 for her
US Non-Fiction VBB
.
~ ~ ~ ~ ~
I'm so glad you've found this book!
Please take a moment to make a journal entry and let the book's previous readers know that it's safe with you.
How and where did you find the book? What did you think of it? What are you going to do with it next?
It's now your book, for you to do with as you please: keep it, pass it to a friend, or maybe even leave it where someone else can find it!
If you've ever wondered where your books go after they leave your hands, join BookCrossing and you may find out: you'll be able to follow the further adventures of your books as new readers make journal entries - sometimes from surprisingly far-flung locations.
(Think of it like Where's George for books: a little like geocaching or a treasure hunt - you can follow a registered book's journey every time someone makes a new entry. Some BookCrossers even leave books *in* geocaches!)
BookCrossing: making the whole world a library!
---

Journal Entry
5
by

booklady331

at
Cape Coral, Florida USA on Tuesday, July 19, 2016
The book arrived today. Thank you so much for sharing with me. I'm planning on reading it this fall.
---

Journal Entry
6
by

booklady331

at
Cape Coral, Florida USA on Sunday, August 05, 2018
Just began reading the book
---

Journal Entry
7
by

booklady331

at
Cape Coral, Florida USA on Monday, August 06, 2018
This is a story that painted a picture about life in a WW2 POW camp, and an adventure on Mt. Kenya. Full of details about what led to the climb, the climb itself, but most of all, the spirit of the the men involved. It is a story, universal to all men.... the need to live life to it's fullest, no matter the circumstances. My only wish would be that the author's paintings of this "picnic" had been included. I am amazed at how many details the author remembered.

Read for the 666 around the world challenge . PMed another BCer as it is on her wish list.
---

Journal Entry
8
by

booklady331

at
Cape Coral, Florida USA on Thursday, August 09, 2018
Enjoy! off to jennannej - a book from her wishlist

---

Think I spotted this book on
twitter
and the premise sounded engaging!
Thanks so much to booklady331 for this book! It came in this morning's mail and I look forward to jumping in.
---

What a fun story!
An Italian POW in Africa decided boredom was worse than risking his neck on a climb of Mount Kenya - so he and a couple fellow prisoners escaped to scale the peak on a multi-week adventure. I loved his perspective on life and the practical things they did to try and prepare for the trip (MacGuyver-ing so much of their gear).
The writing is not great, and he does tend to go on a bit too much here and there, but overall, a cracking good adventure story!
---
Gave to my bf, the climber.
---