Southern Ghost
3 journalers for this copy...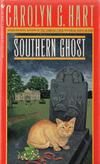 A Bantam Book / July 1992. Bantam paperback edition / August 1992.
Death on Demand
series # 8. New York: Bantam Books 1992. Paperback, 290 pages.
Southern Ghost
was in the bookbag Toss sent me last fall when she was clearing out their shelves. The book sounds interesting, I hope I'll find the time to read it before releasing.
1993 Anthony Award, Best Novel nominee
From back cover:
Annie Darling, owner of the Death on Demand bookstore, is shocked to hear talk about her husband, Max, and a beautiful blonde. By the time she's faced down a hostile police chief and bailed Max out of the Chastain, South Carolina, jail, the lady has vanished and Max is the prime suspect in an unspecified crime. The baffling, bloodstained trail leads straight to the doorstep of Tarrant House, home of a venerable Southern family with a violent history dating back to the Revolution—and ghosts of a far more recent vintage.
Annie and Max find that the dignified facade of Tarrant House hides a hotbed of deadly passions as the family turns on itself in a mayhem of murderous motives and angry accusations. But in the end Annie must summon all her sleuthing skills to stop a desperate killer who is ready to strike again to keep the secrets that haunt the Tarrants from the light of day....
About the author:
CAROLYN G. HART is the author of eight "Death on Demand" mysteries featuring Annie Darling, including
Something Wicked
, for which she won an Agatha and an Anthony;
Honeymoon with Murder
, which won an Anthony; and
A Little Class on Murder
, which won a Macavity. She lives in Oklahoma City with her husband Phil.
Carolyn Hart
at Wikipedia
Carolyn Hart
Homepage
Death on Demand series
at the author's website
---

Released 4 yrs ago (10/20/2016 UTC) at Tampere, Pirkanmaa / Birkaland Finland
CONTROLLED RELEASE NOTES:
Palkintokaapista valitsit, ja Kesis lupasi kuriroida. Hyviä lukuhetkiä, erpax!

---
Kesis toi Columbus-miittiin, kiitos.
Hartin mysteerejä on kehuttu ja yksi sellainen jo odottelee hyllyssä lukuvuoroaan. Siksi kiinnostuin tästäkin listan ensivilkaisulla ja kannen kissan nähtyäni en voinut enää vastustaa. Hienosti askarreltu kirjanmerkkikin. Kiitos niin kirjoista kuin taas koko VPK:sta, Tarna!
---
Journal Entry
4
by

erpax

at
Little Free Library, In front of International School of Helsinki in Helsinki, Uusimaa / Nyland Finland on Sunday, January 10, 2021
Released 1 mo ago (1/10/2021 UTC) at Little Free Library, In front of International School of Helsinki in Helsinki, Uusimaa / Nyland Finland
WILD RELEASE NOTES:

Mysteerin voi noutaa luettavakseen Jätkäsaaren Little Free Librarysta. Lukuiloa löytäjälle!
Kiitos, että nappasit tämän kirjan mukaasi! Teethän tähän vielä löytömerkinnän. Olisi mukavaa, jos kävisit myöhemmin kertomassa, mitä kirjasta pidettiin ja miten sen matka jatkuu.
---


Picked this up from the LFL outside the International School as I was leaving a book there. My car was running so that the battery would not die, so I was in a hurry. I'm not into ghost stories as such, but I thought I might be able to tag somebody with this. It was only later that I noticed the plot is set in a bookstore, which is always a bonus to old bookshop-keepers like me.
---

Making more than just a mental note: I've tagged Bookworm-lady with this book. Ought to read it soon.
---