Hogfather (Discworld)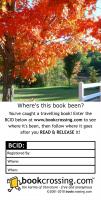 Registered by

GoryDetails

of
Nashua
,
New Hampshire
USA on 9/7/2016

This Book is Currently in the Wild!
1 journaler for this copy...

Journal Entry
1
by

GoryDetails

from
Nashua
,
New Hampshire
USA on Wednesday, September 07, 2016
I've taken to releasing a copy of this book almost every Christmas season, so I keep an eye out for cheap copies during the year. I came across this fair-condition paperback at the local library's ongoing book sale.
I first discovered Terry Pratchett courtesy of some rave reviews in the BookCrossing forums and the glimpse of
Guards! Guards!
flying by in the recently-released sidebar. I encountered
Hogfather
late in 2002, and loved it - and since then I've released a copy almost every Christmas season.
The best part about registering multiple copies of books I've read and enjoyed: I can cut and paste the review, thusly:
OK, now I'm definitely hooked on Pratchett and Discworld. I figured this book couldn't go wrong - Death standing in for the Hogfather (guy in the red suit, comes down chimneys, etc.) - but it was funnier and (dare I say it?) more profound than I'd expected. Lots of thrills and chills to go with the guffaws and snickers, and the occasional provoked thought - a wonderful Discworld Christmas carol... There were riffs on everything from "Mary Poppins" to philosophy to the commercialization of Christm- er, of Hogswatch, with nods to "Good King Wenceslas" and haute cuisine along the way. And don't miss the appearance of Bilious, the "oh god" of hangovers!
Discworld fans don't need further encouragement, but if you've never indulged before, here's a clip or two.
From a scene where Death is discussing the nature of giving with Albert:
"BE HAPPY WITH WHAT YOU'VE GOT, IS THAT THE IDEA?"
"That's about the size of it, master. A good god line, that. Don't give 'em too much and tell 'em to be happy with it. Jam tomorrow, see."
"THIS IS WRONG." Death hesitated. "I MEAN...IT'S RIGHT TO BE HAPPY WITH WHAT YOU'VE GOT. BUT YOU'VE GOT TO HAVE SOMETHING TO BE HAPPY ABOUT HAVING. THERE'S NO POINT IN BEING HAPPY ABOUT HAVING NOTHING.'
Albert felt a bit out of his depth in this new tide of social philosophy.
"Dunno," he said. "I suppose people'd say they've got the moon and the stars and such like."
"I'M SURE THEY WOULDN'T BE ABLE TO PRODUCE THE PAPERWORK."
From a scene at Unseen University [I want this one on a T-shirt], upon being urged to more seasonal cheer:
"Madame, we're wizards," said the Senior Wrangler. "We don't do cheerful."
Glingleglingleglingle...
[For more seasonal fun, check out the DVD of the live-action, made-for-TV film version of
Hogfather
. And you might find the book's
TV Tropes page
of interest.]
---

Journal Entry
2
by

GoryDetails

at
Amherst St./101A (see text for details) in Nashua, New Hampshire USA on Thursday, December 01, 2016
Released 3 yrs ago (12/1/2016 UTC) at Amherst St./101A (see text for details) in Nashua, New Hampshire USA
WILD RELEASE NOTES:

I left this book on a bench outside of Pig Tale Pizza on Amherst St at around 5:30 or so, after a tasty dinner (featuring, of course, pork products!). Hope the finder enjoys the book!
*** Released as part of the
2016 Christmas/Holiday
release challenge. ***
*** Released as part of the
2016 Movie release challenge
. ***
---