Haunted: A Novel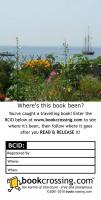 Registered by

GoryDetails

of
Nashua
,
New Hampshire
USA on 8/27/2016

This Book is Currently in the Wild!
1 journaler for this copy...

Journal Entry
1
by

GoryDetails

from
Nashua
,
New Hampshire
USA on Saturday, August 27, 2016
I found this fair-condition softcover at a local Goodwill thrift shop, and nabbed it for another release copy. (Amusing/creepy note: the cover glows in the dark, quite a surprise if you aren't expecting it!)
There's definitely a lot of horror here, but I found the framing device too over-the-top too quickly - it kept dragging me out of the stories. Still, the format's intriguing: a group of characters sign up for a Very Special Writer's Workshop, and find themselves locked in an abandoned movie theater for a month, with the goal that each will produce a story. There's a tale by each character, strewn among the connecting narrative (and with a handy table of contents at the back of the book if you want to look up a particular character's story - helpful in some cases, as one character's plot feeds off of another's, and/or bleeds into the "real life" narrative).
I found it interesting to try and guess each character's back story before it came out in the narrative - some I got right, others not so much. A few of the characters were moderately sympathetic, but for the most part I detested them, and their behavior in the "lockup" was so outrageous that it really put me off. Taking it as dark humor helped a little, but even so I can't say I enjoyed the book. [Several of the more horrible and destructive character actions were explained as their attempts to add drama to the "how I came to write my story" aspect of their work - very much meta-gaming there. But attempts to create drama often backfire, and in this case they do so spectacularly and gruesomely!]
Some of the individual stories-within-the-story were quite good, in a queasy sort of way. "The Nightmare Box" had a twilight-zone feel that I liked - and it fed neatly into several stories and back-stories. And I liked the dark humor in "Product Placement", such as "There's not much difference between boing a rabbit and a snarky Web-site blogger who said your
costatine al finocchio
needed more Marsala."
"Hot Potting" had more of a real-world horror to it, as it described the results of someone falling into a high-temperature thermal pool. I've read real-life accounts of that - it happened more than once in Yellowstone Park, with heart-rending results, and one of those episodes was paraphrased in the story - but I could never have imagined taking that nightmare and expanding on it the way Palahniuk does. [The actions of the story's narrator don't seem believable to me at all, which is perhaps just as well, but it's still plenty cringe-inducing.]
The "Evil Spirits" story appealed to me - victims of a strange virus kept in isolation.
And of course there's "Guts"... which combines an appalling type of accident (that's happened in real life too, with results almost as tragic as the hot-pot incidents) with some dark humor regarding masturbation and a few urban myths. It's got some graphic scenes that could be very, very difficult to get out of one's head - the rest of the book does too but those may be the worst - so the squeamish should definitely avoid it. In fact, the author added a bit at the end of the book called "The 'Guts' Effect", "An Afterword (or Warning) of Sorts", in which he describes the people who fainted at public readings of "Guts": "For a nine-page story, some nights it takes thirty minutes to read. In the first half, you're pausing for so much laughter from your audience. In the second half, you're pausing as your audience is revived." I can believe it!
[There's a
TV Tropes page
on the book, but do beware of spoilers if you haven't read the book yet.]
---

Journal Entry
2
by

GoryDetails

at
Park and Ride (at Exit 2) bookshelf in Salem, New Hampshire USA on Wednesday, October 05, 2016
Released 2 yrs ago (10/5/2016 UTC) at Park and Ride (at Exit 2) bookshelf in Salem, New Hampshire USA
WILD RELEASE NOTES:

I left this book in the book-swap shelf inside the bus terminal at around 2:30; hope the finder enjoys it!
*** Released as part of the
2016 Spooktacular Halloween
release challenge. ***
---