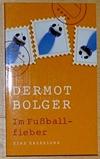 Im Fußballfieber
4 journalers for this copy...
das Buch kommt mit zum Meet-Up am 10.2.16 ins Erdton
---
was Nettes Kleines für zwischendurch - kann ich vielleicht beim EM-Spiel gebrauchen
---
Ich hab es gelesen. Eine nette Lektüre, kurzweilig geschrieben. Geht nun zusammen mit einem anderen Buch als Trost für ein verlorenes Spiel bei der EM an RazFaz
---
Liebe RazFaz,

ich denke, dass auch dir diese kleine Geschichte gefallen wird.
---

Kam in Begleitung meines EM 2016-Trostbuches. Vielen dank !
---

Geht als auserwählter Reisebegleiter mit Hamish auf die Reise in den Norden.
****
Lieber Finder dieses Buches,
Du hast also ein Buch gefunden, das bei Bookcrossing registriert ist! Wenn Du hier eine kleine Nachricht schreibst, weiß ich, dass es gefunden worden ist. Vielleicht hast Du auch Lust, mich wissen zu lassen, wie Dir das Buch gefallen hat und was Du als nächstes damit machen möchtest? Das Buch kannst du (das ist ja auch der Zweck) lesen und dann wieder frei lassen, damit es seine Reise um die Welt fortsetzen kann. Oder auch an Freunde weitergeben.
Bookcrossing ist eine Plattform, die die "Wanderwege" von Büchern beobachtet -- anonym, kostenlos, spamfrei und ohne weitere Verpflichtungen!

Vielen Dank und viel Spaß mit dem Buch!
***
Dear Finder of this book,

I'm so glad it has found a home with you. I hope you enjoy reading it and that you might take a few moments to jot down here what you thought about the book, or about finding it, or about bookcrossing.

You don't have to join or sign up to bookcrossing to leave a comment here but if you do join, you will receive emails to alert you when others make a journal entry for this book and track its travels across the world. If you decide to join bookcrossing, now that you have discovered the site, I'd be delighted if you would mention me - RazFaz - as the person who introduced you to the site.

Happy reading,
RazFaz
---
Journal Entry
7
by

Andrea-Berlin

at
Berlin (irgendwo/somewhere), Berlin Germany on Thursday, October 29, 2020
Herzlichen Dank für das Wunschbuch, ich werde es irgendwann zusammen mit einem Fußballfan lesen. Auch sehr gefreut habe ich mich über das Lesezeichen, das wunderschöne Foto, die englischen Aufkleber (Woher wusstest Du, dass ich schon immer mal welche bestellen wollte?) und die gruselige Halloween-Karte, die ich übermorgen für mein Plakat gut gebrauchen kann.
---