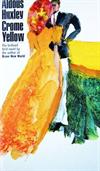 Crome Yellow
3 journalers for this copy...

A scattered wind of feelings,

like birds from a tree
taking flight.
---

This lovely little book has dressed itself in nakedness and a few well placed balloons! ;)

And so it's ready to join the Party for the 2016 Birthday Rabck Group! :D

Here's to a new dance for a new year! So slip on your party shoes and dust off your hat... It's your day. It's your time. Give them enough to talk about for a good hundred years! >;)
---

Safely received with thanks, and finally opened almost two months later (I did resist the temptation, I did, I diiiid!)
---

The others followed. Denis shambled in the rear, vainly exhorting everyone to caution: the slope was steep, one might break one's neck. What was wrong with these people, he wondered? They had become like young kittens after a dose of cat-nip. He himself felt a certain kittenishness sporting within him; but it was, like all his emotion, rather a theoretical feeling; it did not overmasteringly seek to express itself in a practical demonstration of kittenishness.

Somewhere buried deep under the art of satire and the art of characters talking to hear themselves talk there are seeds ow what would become ten years later Brave New World - but don't pick up this book expecting utopia or advanced technology. Instead, imagine all your literature and philosophy teachers have aged quite a bit, lost some of their wit, and they gathered to have a friendly chat in a futile attempt to push their own agenda. I liked and I did not like this book. The pace felt too slow for such a tiny book, the mania too little maniacal.

Thank you once again for sharing this book with me :) It will travel shortly to somebody interested in reading it :)
---

.. and a third :)
Hope you enjoy this one!
---
Thank you for sending this one.
---