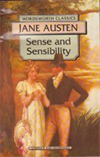 Sense and Sensibility
1 journaler for this copy...

A Wordsworth Classic.
Book kindly dropped at
Network Nirvana
March 2016 for registration and release.
Thank you !
"Jane Austen's first published novel, Sense and Sensibility is a wonderfully entertaining tale of flirtation and folly that revolves around two starkly different sisters, Elinor and Marianne Dashwood. While Elinor is thoughtful, considerate, and calm, her younger sister is emotional and wildly romantic. Both are looking for a husband, but neither Elinor's reason nor Marianne's passion can lead them to perfect happiness-as Marianne falls for an unscrupulous rascal and Elinor becomes attached to a man who's already engaged. Startling secrets, unexpected twists, and heartless betrayals interrupt the marriage games that follow. Filled with satiric wit and subtle characterizations, Sense and Sensibility teaches that true love requires a balance of reason and emotion."
FYI:
Sense and Sensibility - IMDb
.
Directed by Ang Lee 1995 starring Emma Thompson, Kate Winslet and James Fleet.
Rich Mr. Dashwood dies, leaving his second wife and her three daughters poor by the rules of inheritance. The two eldest daughters are the titular opposites.
---