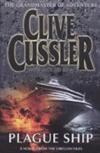 Plague Ship
2 journalers for this copy...
Book from the library shelves of
East Ringwood
community hall, with thanks to previous owner.
Thank you !
From back cover:
"The crew has just completed a top secret mission against Iran in the Persian Gulf, when they come across a cruise ship adrift at sea. Hundreds of bodies litter its deck, and as Cabrillo tries to determine what happened, explosions rack the length of the ship. Barely able to escape with his own life and that of the liner's sole survivor, Cabrillo finds himself plunged into a mystery as intricate - and as perilous - as any he has ever known, pitted against a cult with monstrously lethal plans for the human race ... plans he may already by too late to stop."
---
Journal Entry
2
by
Diabetes-3136
at
Croydon, Victoria Australia on Sunday, January 17, 2016
Book has been neatly covered to protect it on its journey, with a special sticker on the front.
---

---

2018/# 29dec18

Like an action-packed Bruce Willis movie ! Yet I found a lot of the 'explanations' of the hi-tech stuff seemed unnecessary to the plot.

As this was first published in 2008, rather chilling to think terrorism is no longer a 'novel' idea.

Time to set it free - perhaps the next reader will enjoy the technical parts.
---