Savanni hengittää
3 journalers for this copy...
Valokuvakirja. Alaotsikko: Matka afrikkalaiseen luontoon.

Saa jatkaa matkaa kotoa.
---
OBCZ Pilkun loppiaismiitissä
---

En taida koskaan matkustaa Afrikkaan, mutta kauniita kuvia katson silti mielelläni.
Kiitos kirjasta, Oofiri!
---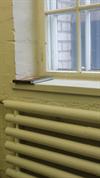 Tutkin kuvat ja luin osan teksteistä. Tämä on hieno kirja! Tekeepä mieli etsiä tutkittaviksi Mauri Leivon kirjat kotimaisesta luonnosta.
---
Ajattelin että Valokuvamuseon kävijät osaavat arvostaa tätä hienoa kirjaa ja oikeassa olin!
Teemavapautus tämä oli ja sopii LolaRobinin Afrikka-haasteeseen.
Themed release: A book of photos at the Museum of Photography in Helsinki.
---
Tämä on ensikosketukseni Bookcrossingiin, kiitos vapauttajille!
Afrikka on jäänyt minulle kaikkein tuntemattomimmaksi maanosaksi. Sanotaan, että sattumaa ei ole, niin ehkä nyt tämän kohdalla on käynyt.. Kiitos, luen mielelläni ja ehkä joskus vielä matkustan afrikkalaiseen luontoon tämän innoittamana.


---