The Devourers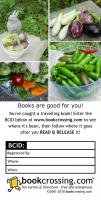 Registered by

GoryDetails

of
Nashua
,
New Hampshire
USA on 8/28/2016
2 journalers for this copy...

Journal Entry
1
by

GoryDetails

from
Nashua
,
New Hampshire
USA on Sunday, August 28, 2016
I found this Advance Reader's Edition softcover at a local Goodwill thrift shop, and couldn't resist it. The beautiful, androgynous face on the cover, the details of the bones and thorns woven into the background - it all leads in to an enthralling tale of near-immortal shapeshifters, forbidden relationships, and temptation.

The story opens in modern-day Kolkata, India, with the narrator - a college professor - meeting an attractive stranger, who introduces himself by saying "I'm a werewolf". Half-werewolf, actually... This leads into a proposal: the professor will transcribe some old - very old - documents on behalf of the werewolf, and the werewolf will tell him his story.

Parts of the book consist of those transcribed documents, one of them the journal of Fenris (one of many names, none his true one), a Nordic-type shapeshifter who's been wandering the world in company with two others, shapeshifters from different cultures. Fenris spies a mortal woman and, having craved some way of "creating" instead of spending eternity consuming, assaults her - something that's taboo among his tribe, as it isn't considered appropriate to screw one's food-sources. His companions are appalled, and one insists that he pay the ultimate penalty and die. The third shapeshifter saves him, but their paths must separate after that.

Another journal is from the viewpoint of the woman, who's a bitter but independent soul, not at all pleased about being impregnated by this uncouth stranger against her will. She makes a tentative alliance with the third shapeshifter, though, as they seek out Fenris - she for some kind of vengeance (foolish as it seems to her) and he for reasons of his own.

In between these accounts there are more modern-day scenes between the professor and the mysterious werewolf - though the professor soon guesses his relationship to the characters in the journals, and the reader probably got it before he did.

The shapeshifter theme has been used often in fiction, of course, but the presentation here is intriguing: building on many different cultures' versions of shapeshifters, it includes werewolves, were-tigers, djinni, and more - and it sets up their own variations of tribes and rules, while positioning them firmly as predators who see humans as food and occasional foes. And to the humans, the shapeshifters are monsters or demons, to be feared, avoided, or - if possible - destroyed. The characters who try to cross those lines, finding something to admire or even trust in each other, suggest that there's some hope for mutual accomodations down the line - but can that really happen?

I found myself caught up in the story, both the present-day one - where the professor finds himself increasingly attracted to his strange new friend - and the long-ago tales from the journals, which revealed the characters' motivations and fates slowly and entrancingly. Unusual, violent, beautiful story!
---

Journal Entry
2
by

GoryDetails

at
Nashua, New Hampshire USA on Saturday, July 15, 2017
I'm putting this into the
Otherworldly bookbox
, which will be on its way to its next stop soon. Enjoy!
---
This book looked too interesting to pass by. I just had to pick this out of emmejo's Otherworldly Bookbox. Thanks for sharing!
---