Devil's Waltz
Registered by

Tarna

of
Tampere
,
Pirkanmaa / Birkaland
Finland on 12/14/2015
2 journalers for this copy...
Journal Entry
1
by

Tarna

from
Tampere
,
Pirkanmaa / Birkaland
Finland on Monday, December 14, 2015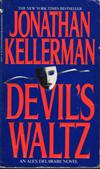 Bantam hardcover edition published February 1993. Bantam export edition / May 1993. Bantam paperback edition / November 1993. New York : Bantam 1993. Paperback, 497 pages.
The blurb:
A MEDICAL MYSTERY MORE TERRIFYING THAN ANY COURTROOM DRAMA!
The doctors call it Munchausen by proxy, the terrifying disorder that causes parents to induce illness in their own children. Now, in this most frightening case, Dr. Alex elaware may have to prove that a child's mother or father is making her sick.
"READS LIKE WILDFIRE... HARROWING SUSPENSE."
— THE NEW YORK TIMES BOOK REVIEW
Twenty-one-month-old Cassie Jones is bright, energetic, the picture of health. Yet her parents rush her to the emergency room night after night with medical ymptoms no doctor can explain.
Casie' parents seem sympathetic and deeply concerned. Her favorite nurse is a model of devotion. Yet when child psychologist Dr. Alex Delaware is called in to investigate, instinct tells him that one of them may be a monster.
"A TENSION-PACKED PAGE-TURNER"
— COMOPOLITAN
Then a physician at the hospital I brutally murdered. A shadowy death is revealed. And Alex and his friend LAPD detective Milo turgis have only hours to uncover the link between thee shocking events and the fate oof an innocent child.
"I DOUBLE DARE YOU TO START READING DEVIL'S WALTZ AND TO PUT IT DOWN."
— LARRY KING
About the Author:
After a distinguished career in child psychology, JONATHAN KELLERMAN turned into writing fiction full-time. Today there are more than thirteen million copies of Kellerman's novels in print internationally:
When the Bough Breaks, Blood Test, Over the Edge, Silent Partner, Time Bomb, Private Eyes
(all Delaware novels), and
The Butcher's Theater
, a novel of serial killings in Jerusalem. He is also the author of numerous scientific articles, two volumes of psychology, and an upcoming children's book. He lives in Southern California with his wife, the novelist Faye Kellerman, and their children.
---
Toss wanted to make room in their mystery bookshelf and sent me (via her daughter and my goddaughter Faenza) a bagful of paperbacks. This book was among them. Medical mysteries aren't really my cup of tea, so I think I'll release it without reading it first.
Jonathan Kellerman
at Wikipedia
---
Journal Entry
2
by

Tarna

at
Bussipysäkki in Tampere, Pirkanmaa / Birkaland Finland on Tuesday, December 15, 2015
Released 4 yrs ago (12/15/2015 UTC) at Bussipysäkki in Tampere, Pirkanmaa / Birkaland Finland
WILD RELEASE NOTES:

Box 14 in my BookCrossing Christmas Calendar was opened a day late on a bench of busstop # 0510, Itsenäisyydenkatu 10.
Happy Holiday season!

TO THE FINDER:


Thank you for catching this book and coming here to see its journal!
To me, it's important to be sure this book is in (your!) good hands. Please, let me know that you've found it. I'm also interested to know what you thought of it. That's why I ask you to re-visit the site and make another journal entry sharing your thoughts and maybe telling what kind of plans you have for it.

BookCrossing site is now multilingual. If you wish to change the language, you can do it in the drop-down menu at the green bar above (next to the yellow Go-button).
If you are new to BookCrossing, stay the site a bit longer and enjoy it. You're more than welcome to join the fun and become a member.



HAPPY READING!




BookCrossing-joulukalenterini luukku 14 avautui päivän myöhässä Itsenäisyydenkatu 10:n pysäkillä (0510).
Iloista joulunodotusta!
LÖYTÄJÄLLE:
Kiitos, että nappasit tämän kirjan mukaasi ja tulit vielä vilkaisemaan sen matkapäiväkirjaa!
Tieto siitä, että kirja on hyvissä käsissä, on minulle tärkeä. Siksi pyydän sinua kertomaan, että se on sinulla. Toivon myös, että luettuasi kirjan poikkeat täällä uudestaan ja kirjoitat mietteitäsi lukemastasi. Sinun mielipiteesi kiinnostaa minua. :) Samalla voit myös kertoa mahdollisista jatkosuunnitelmistasi kirjan varalle.

Jää ihmeessä vielä hetkeksi ja tutustu BookCrossingiin. Sivustolla on useita kielivaihtoehtoja, mm. suomi. Kielen voit vaihtaa vihreässä yläpalkissa keltaisen Go-nappulan oikealla puolella olevan pudotusvalikon avulla.
Jos olet kiinnostunut BookCrossingista, ja haluaisit tutustua siihen suomen kielellä, kurkkaapa myös näiden linkkien taakse:
* suomenkielinen keskustelufoorumi http://www.bookcrossing.com/forum/30
* suomalainen Wikipedia-artikkeli BookCrossingista osoitteessa http://fi.wikipedia.org/wiki/Bookcrossing
Jos harrastuksemme kiinnostaa sinua, liity toki jäseneksi. Olet tervetullut mukaan joukkoomme nyt tai myöhemmin.



LUKUILOA!!!




---
I haven't read it yet, but seems intresting!
---