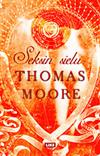 Seksin sielu
2 journalers for this copy...
Kovakantinen kirjastopoisto. - suom. Teija Hartikainen ja Lauri Porceddu. - Helsinki: Like, 2003. - 331 s.
Alkuteos: The soul of sex - cultivating life as an act of love, ©1998

www.like.fi (9.12.2015):

"Puhumme seksistä yleensä täysin fyysisenä suorituksena, vaikka millään maailmassa ei ole enemmän sielua kuin seksillä", aloittaa Moore. Hän sukeltaa tuntemattomaan – seksin henkisyyteen ja sieluun, sen historiaan, filosofiaan, uskontoon sekä psykologiaan, jotka ovat yleensä saaneet jäädä pimentoon seksin fyysisyyttä hehkutettaessa.

Tämä laaja-alainen pohdinta liikkuu orgasmi-käsitteen historiasta Marilyn Monroen mystiseen olemukseen. Ne, jotka ovat valmiit seuraamaan Mooren ajatuksia niiden suunnistaessa ihmisen seksuaalisuudessa, pääsevät kiehtovalle matkalle ja päätyvät mietiskelemään omaa suhdettaan seksiin ja sen sieluun.

Moore tarjoaa vastakohdan moraalistiselle yhteiskunnallemme esittelemällä epikurolaisen elämäntyylin,, jossa pienet ilot, kuten hyvä ruoka, ystävät, perhe ja luonnonläheisyys auttavat luomaan seksuaalisudelle turvallisen perustan kehittyä. Hän kietoo henkisyyden ja seksin yhdeksi tarjoten tuoreen, elämäniloisen keinon syventää kokemustamme seksuaalisuudesta ja rakkaudesta jokaisella elämän alueella.

Thomas Moore on amerikkalainen kirjailija ja luennoitsija. Hän eli 12 vuotta katolisena munkkina ja on suorittanut tutkinnot teologiasta, musiikkitieteestä sekä filosofiasta. Aiemmin tämän entisen uskonnon ja psykologian professorin tuotannosta on suomennettu Sielun ohjaama elämä.
---
Journal Entry
2
by
sumako
at
Kuopio, Pohjois-Savo / Norra Savolax Finland on Wednesday, July 21, 2021
Released 2 mos ago (7/22/2021 UTC) at Kuopio, Pohjois-Savo / Norra Savolax Finland
CONTROLLED RELEASE NOTES:
Toivelistakirja samaan pakettiin
---

---