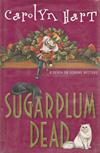 Sugarplum Dead (Death on Demand Mysteries, No. 12)
Registered by
BOOKWORMINUSALL
on 11/30/2015

This Book is Currently in the Wild!
2 journalers for this copy...

Friends of the Library Purchase.
HAPPY READING! : )
Multiple Challenge Surprise RABCK for another BCer released for:
1. WK 18: Colors of the Mexican Flag, RED/WHITE/GREEN in Nutcracker on Mantle arrangement on cover for WK 25: Redo Week...NJABBIC 2ndQ (Secretariat) http://www.bookcrossing.com/forum/23/540935
2. SUGARPLUM (Title) and NUTCRACKER Mantle Arrangement (Cover Pic) for Christmas in July (booklady331) https://www.bookcrossing.com/forum/23/542523
---

Journal Entry
2
by
BOOKWORMINUSALL
at
Brighouse, West Yorkshire United Kingdom on Monday, July 03, 2017
Released 2 yrs ago (6/29/2017 UTC) at Brighouse, West Yorkshire United Kingdom
CONTROLLED RELEASE NOTES:
TO THE FINDER OF THIS BOOK:

HELLO...WELCOME to BOOKCROSSING...and CONGRATULATIONS!


You have not only found yourself a good book, but a whole community of booklovers dedicated to sharing books with each other and the world at large. I hope you'll stick around a bit and get to know BOOKCROSSING http://www.bookcrossing.com/about. Maybe you'll even decide to make a journal entry on this book, possibly listing me...BOOKWORMINUSALL...as the one who referred you. We want to make the whole world a library! You may choose to remain anonymous or to join (it's free!). Feel free to read and keep this book, or to pass it on to a friend, or even set it free "in the wild" for someone else to find as you did. If you do choose to join and journal, then you can watch the book as it travels - you'll be alerted by email each time someone makes another journal entry. It's all confidential (you're known only by your screen name and no one is ever given your email address), it's fun, it's free, and it's spam-free...all thanks to our dedicated totally AWESOME BOOKCROSSING MANAGEMENT http://www.bookcrossing.com/management, and SUPPORT TEAMS!!!


HAPPY READING!
---

Journal Entry
3
by

Plum-crazy

at
Brighouse, West Yorkshire United Kingdom on Wednesday, July 12, 2017
---

Journal Entry
4
by

Plum-crazy

at
Brighouse, West Yorkshire United Kingdom on Monday, December 17, 2018
A cosy mystery to me, rightly or wrongly, means quirky & eccentric characters & there's certainly a wealth of those here. However, I didn't really gel with the stars of the series, Annie & Max. I couldn't work them out - how old are they supposed to be? At times they seemed to be 20-30 somethings but at others more like septuagenarians!

The storyline was fine (although quite frankly I found the descriptions of Marguerite's "spacious, spooky, mansion" ridiculous!) & there was some repetition that could have been cut to the benefit of the story. It would saved it from becoming overlong.....but that's only my opinion :o)

Not a bad read overall, thanks for sharing BOOKWORMINUSALL
---

Journal Entry
5
by

Plum-crazy

at
Tescos in Brighouse, West Yorkshire United Kingdom on Thursday, July 11, 2019
Released 10 mos ago (7/11/2019 UTC) at Tescos in Brighouse, West Yorkshire United Kingdom
WILD RELEASE NOTES:
Added to the fund raising bookshelf
Released as part of the CHRISTMAS IN JULY Challenge (#5)



Congratulations - You've found a travelling book !

Here at BookCrossing we're trying to give books their own unique history by keeping a running log of all the places they've been and what their readers think of them.

You can help us to track this book's travels by taking a moment to make a journal entry - let us know where you found it, what you thought of it or where it's going next - write as much or as little as you like! You can remain anonymous or why not join us? If you decide to join us you will receive an alert every time someone new journals the book, helping you to follow it's travels as it meets new readers.

Enjoy the book!

(If you do decide to join Bookcrossing, please consider putting me,
Plum-crazy, as your referring member - thank you)

---