Fat Tuesday
2 journalers for this copy...

It's the day of sin, when sexuality explodes on the streets and no one is who they seem. For a cop turned outlaw, and for a beautiful woman held captive in a loveless marriage, New Orleans's Mardi Gras will offer them their last chance for freedom—and each other.

Burke Basile is the hard-bitten cop whose world shattered when a fellow officer died from a bullet fired from Burke's own handgun. When his unhappy marriage crumbles, and he has nothing left to lose, Burke focuses his rage on his nemesis: Pinkie Duvall, a sinister, flamboyant defense attorney who has just helped a known killer get away with another murder. Determined to bring the powerful Duvall down, Burke strikes at the attorney's most vulnerable spot: the gorgeous wife Duvall pampers but keeps prisoner, a woman whose love Pinkie will never have.

Remy Duvall was destitute and at the mercy of New Orleans's streets before Duvall made her his trophy. When Burke strikes, taking Remy as his captive, it sets off a duel between the criminal lawyer and the ex-cop that explodes from the streets of the French Quarter and intensifies in the steamy swamps.

For Burke, who is struggling with his own anguished spirit, his fight with Duvall is a matter of honor. But the one thing he could never have imagined is the passion that erupts between himself and Duvall's wife. As dozens of players —from the innocent to the corrupt—are drawn into the drama, Burke and Remy have one way out: through a desperate confrontation in the middle of Mardi Gras madness.
---

promised to Gremlyn202/USA (March 2004)
---

Journal Entry
3
by
nikel27
at
Post Office in Trade, Ginsheim -- Controlled Releases on Friday, March 26, 2004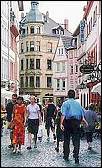 Release planned for
Monday, March 29, 2004
at
Post Office
in Trade, Ginsheim Controlled Releases.
thanks for trading with me
EnJoy the book
---
Thanks!!! Got this book from Germany today in a trade!


---
i loved the cop in this book and the buyou parts made me think of carl hiessaan (sp?) books.
---