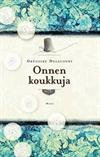 Onnen koukkuja
Registered by

Annimanni
of
Espoo
,
Uusimaa / Nyland
Finland on 9/24/2015
4 journalers for this copy...

Journal Entry
1
by

Annimanni
from
Espoo
,
Uusimaa / Nyland
Finland on Thursday, September 24, 2015
Kirjasampo:

"Suloisenkarvas romaani onnen hauraudesta

Tiedättehän ne ihmeelliset henkilöt, jotka huolehtivat perheestään, ystävistään ja yksinäisestä isästään, joiden elämässä ilot ovat pieniä, mutta jotka kuitenkin vaikuttavat tyytyväisiltä? He ovat kultahippusia, joiden arvoa läheiset eivät usein ajoissa ymmärrä.

Niinpä, kun keski-ikäinen lankakauppias Jocelyne voittaa lotossa 18 miljoonaa euroa, hän ei ryntää oitis voittoa nostamaan vaan miettii. Hän voisi tehdä mitä vain, muuttaa elämänsä täysin, mutta mitä sellainen mahtaisi tarkoittaa? Kun Jo harkitsee, joku hänen lähellään ottaa ja tekee ratkaisun.

Tämä suloisenkarvas suosikkiromaani on levinnyt Siilin eleganssiin hurahtaneiden lukijoiden käsistä maailmanlaajuiseksi jymymenestykseksi. Sen lukijaa vetää kahtaalle jännite lukea eteenpäin ja toisaalta halu vaipua mietteisiin siitä hauraasta onnesta, jota Jocelyne niin viisaasti ryhtyy varjelemaan."
---

Pidin Siilin eleganssista, entä tästä? Se jää nähtäväksi.
Kiitos kirjasta, Annimanni!
---

Ei tämä sentään siilille vertoja vedä, mutta mukavaa luettavaa oli kuitenkin.
This is my book #12 in the
Reduce Mount TBR 2018
-challence by Dove-i-libri.
---

Possu sikasäkistä joutuu postin haltuun tänään. Kauanko sitten posti pitänee hallussaan.
Mukavia lukuhetkiä!
Book #13 in the
2018 Keep Them Moving
-challence by Booklady331
---
Journal Entry
5
by
LiskoMiettinen
at
Jyväskylä, Keski-Suomi / Mellersta Finland Finland on Monday, January 15, 2018
No, kiitoksia kirjasta. Olen tämän vaan jo lukenut. Katsotaan luenko uudestaan, vai saako lähteä pian jonnekin muualle matkalle.
---
Journal Entry
6
by
LiskoMiettinen
at
Jyväskylä, Keski-Suomi / Mellersta Finland Finland on Wednesday, January 17, 2018
Released 2 yrs ago (1/18/2018 UTC) at Jyväskylä, Keski-Suomi / Mellersta Finland Finland
CONTROLLED RELEASE NOTES:
Koskas kaikki tuntemani Jyväskyläläiset crossarit ovat tämän jo lukeneet tämä saa lähteä yllärinä muualle huomenna. :D
---
Kiitos, tämä olikin kiva ylläri. :)
---