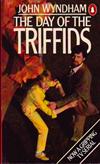 The Day Of The Triffids
5 journalers for this copy...

My sister had a massive clear out which was great for me as I got lots of books!

I read this not so long ago, here is my review:

I always assumed the Triffids were aliens and it turns out we created them. And I always thought this story would mostly be about humans trying to escape from them. But it wasn't really like that at all.

This is the story of Bill, Bill is in hospital recovering from a nasty triffid sting which turns out to be pretty lucky as he's missed a green light display from space which turns out to be the result (or thought to be the result) of a weaponized satellite. Humans aye? we are our own worst enemy.

With most of the population now blind, things are starting to go bad. Bill rescues a woman called Josella who also still has her sight and they set out together. Then they start to notice that the Triffids have started to take advantage of the situation.......

I really liked this book, I was worried I wouldn't, you know when people go on about how great something is and then it turns out to be a massive let down? Well 'The Day Of The Triffids' deserves the title Sci-fi classic.

The only issue I had was that I wasn't sure things would descend into anarchy so quickly if we lost sight. I mean I know the way about my house and the place I live. I certainty wouldn't be throwing myself out of any windows. You would think the government would try their best to sort it out. Blind dogs would be become big business. But I had a discussion with my dad about it today and he thinks it would all go down like it did in the book so maybe I'm just being optimistic. Either way, well worth a read.
---

Released 4 yrs ago (9/21/2015 UTC) at By Mail, A RABCK -- Controlled Releases
CONTROLLED RELEASE NOTES:
Granting wishes and keeping them moving :)

I realised the guy at the Post Office put a 1st stamp on instead of the 2nd class I asked for but I didn't want to make a fuss and paid for it any way #VeryBritishProblems haha
---

Journal Entry
3
by
kingfan30
at
-- Somewhere in Lincs, Lincolnshire United Kingdom on Thursday, September 24, 2015
Thank you so much for sending, I vaguely remember the TV show when I was younger - more like I remember the nightmare it gave me more than the show! So interested to see what the book is like :-) Very British problems indeed, if I can send anything in return please let me know.

30 Oct 17 - I vaguely remember there being a TV series when I was younger, and although I'm pretty sure I was too young to be allowed to watch, I do remember being terrified that these plants were going to come and get me in the night.

This had me gripped from the start, waking up to find that the majority of the people around you have gone blind doesn't bear thinking about. It throws up a lot of questions, how would you react in the same situation, do you try and help, or do you take the attitude that there are too many to help and that you and the few that have kept their sight need to look after themselves first. I admit this book could have worked well without the triffids as I've seen a few reviews suggest, they do seem a bit of an oddball to throw onto the mix and yet it's what gives this book the slight horror feel to it at the same time.

I love the fact that this book has had such a big impact though, anyone with an over large plant in the garden, usually refers to it as a triffid.
---

---
Thanks kingfan30 for sending me this book from my wishlist! This is one of my favourite books ever and I'm happy to now have a copy that I can bookcross and share with the world. I'm very tempted to read it again before I do.
---
Will give this to my friend when we meet up for a railway pub crawl, enjoy!

Hello, and welcome to Bookcrossing! Thanks for finding this book, I hope you enjoy it. Please leave a message to say where you found it, it's free and anonymous! Feel free to keep the book, give it to a friend or release it into the wild again for someone else to find. If you would like to track where the book goes next join Bookcrossing (also free) and you'll get sent an email when the next person finds it. Happy reading...
---
Messed with my mind that I am now suspicious and afraid of large plants. Will also try and watch the film adaptation to further enhance my newfound phobia.
---
Journal Entry
8
by
Jen_1983
at
Tesco Extra Dalmarnock Road in Glasgow, Scotland United Kingdom on Wednesday, November 20, 2019
Released 2 wks ago (11/21/2019 UTC) at Tesco Extra Dalmarnock Road in Glasgow, Scotland United Kingdom
WILD RELEASE NOTES:
.
---
Journal Entry
9
by
luna-moonchild
at
Rutherglen, Scotland United Kingdom on Friday, November 22, 2019
Happy to find inside the cover the bookcrossing information and happy to make a journal entry. Not read the book yet but vaguely remember the TV series and look forward to reading.
---