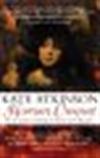 Human Croquet
Registered by

yorkshire-lass

of
Maidstone
,
Kent
United Kingdom on 9/4/2015
4 journalers for this copy...

Journal Entry
1
by

yorkshire-lass

from
Maidstone
,
Kent
United Kingdom on Friday, September 04, 2015
Thank you for picking up this book and logging on to the website, I hope you enjoy reading it, when you have finished it please make a journal entry so that I know what you have decided to do with the book next. If you decide to join BookCrossing (it's free and completely private your e-mail address is never given out) please say yorkshire-lass sent you. Happy BookCrossing!

This copy bought from a charity shop especially for Bookcrossing

From fantasticfiction.co.uk
Once it had been the great forest of Lythe - a vast and impenetrable thicket of green with a mystery in the very heart of the trees. And here, in the beginning, lived the Fairfaxes, grandly, at Fairfax Manor, visited once by the great Gloriana herself.

But over the centuries the forest has been destroyed, replaced by Streets of Trees. The Fairfaxes have dwindled too; now they live in 'Arden' at the end of Hawthorne Close and are hardly a family at all.

But Isobel Fairfax, who drops into pockets of time and out again, knows about the past. She is sixteen and waiting for the return of her mother - the thin, dangerous Eliza with her scent of nicotine, ArpSge and sex, whose disappearance is part of the mystery that still remains at the heart of the forest.


---

Journal Entry
2
by

yorkshire-lass

at
Maidstone, Kent United Kingdom on Monday, March 21, 2016
This is on its wayto France as part of the European Wishlist Tag Game. Hope you enjoy it :-)
---

Thank you yorkshire-lass, I'm very looking forward to reading it !
---

---

On its way to Dark-Draco who was tagged. Enjoy !
---
Journal Entry
6
by
dark-draco
at
Ledbury, Herefordshire United Kingdom on Wednesday, September 13, 2017
Thank you for sending this wishlist book to me.
---
Journal Entry
7
by
dark-draco
at
Ledbury, Herefordshire United Kingdom on Tuesday, November 21, 2017
I don't know any other author that can write about such detestable people, yet hooks you so completely that you just have to keep on reading. And the Fairfax's, and their neighbours, just aren't that nice. From a murderous father, a child-beating teacher, a neglectful Auntie, a lying grandmother, an absent mother, not to mention potential rapists, abandoned babies and neglected pets. Or are they?

Because this is what this book does so well. Isobel, the main narrator, is a strange child - does she really slip between different times and different versions of her world, does she just have a fantastic imagination, or is she hallucinating while in a coma? Having read many a science-fiction novel that sort of deals with the same thing, I find that this one is one of the best - maybe because it is subtle, with no real answers and a whole atmosphere of other-worldliness that I love.

The language and writing is excellent, and that's what keeps you reading, even if what you are reading is kind of hard to take. Isobel isn't so perfect herself, and while she criticises those around her so harshly, there are times that you just want to shake her and tell her to get on with it. But you can also understand where she is coming from - in her world (whether real or not), she's had a tough and weird upbringing, so the fact that she isn't all ok makes sense.

A lovely read - worth picking up.
---
Journal Entry
8
by
dark-draco
at
Birthday RABCK, -- By post or by hand/ in person -- United Kingdom on Monday, November 27, 2017
Released 1 yr ago (11/25/2017 UTC) at Birthday RABCK, -- By post or by hand/ in person -- United Kingdom
CONTROLLED RELEASE NOTES:
---
Received as a birthday gift, thanks
---