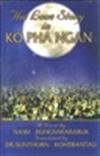 The love story in Ko Pha Ngan
1 journaler for this copy...


ความคิดเห็นเกี่ยวกับหนังสือ
A short romance novel, 187 pages. Cheap beach lit.
Summary: Boy meets two girls from the capital, boy lives simple live on island Ko Pha Ngan. Boy shows the girls everything that is worth seeing on island, mainly nature, waterfalls and a party village crowded by foreigners who behave ´... well... who do not behave. Boy falls in love with girl. Girl loves boy too. It rains. Happy end.
This was really really hard work to read. It took me at least 15 attempts.
The book is very very very badly translated into English. Very badly.
The author has no talent at all.
Characters are boring.
The story has no twist, no drama.
This said, in the end I was strangely happy to have read it after all. Well the last third of the book is a bit better than the rest. Why? What I did learn from the book is a bit about nature in Thailand, that I don't care much about this and that tree and how it is called here and elsewhere. And that meditation does not work for me.
But mainly I got an insight into what Thais think about Western tourists. We are beeing described like I would describe a visit to the zoo. Interesting animals with this and that habit.
And as the main objective of this reading project is to learn something about the countries - yes, this book definitely got me into Thai thinking.
Counts for Thailand.
---