The Blackhouse: The Lewis Trilogy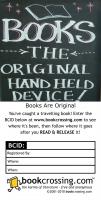 Registered by

gypsysmom

of
Winnipeg
,
Manitoba
Canada on 12/26/2016
1 journaler for this copy...

One of my Christmas gifts from my husband for 2016. Looks intriguing.
---

I can see I am going to be adding another mystery writer to my list. I had never read anything by Peter May before but my husband bought this book for me for Christmas and I loved it. The surprises just keep piling up, almost right to the end.

Fin Macleod is a detective with the Edinburgh police force but he is hoping to do something else with his life and he's been taking courses in computer science at Open University. Recently, though, he's been through a tough patch because his young son was killed. He has been at home for a month when he is fingered to go to the Isle of Lewis, one of the Outer Hebrides islands, to help with a murder investigation. The HOLMES computer noticed that the murder was similar to a murder in Edinburgh on which Fin was the lead detective. Plus Fin grew up on the Isle of Lewis; in fact he lived in the small village in which the murder took place. So Fin goes back home for the first time in 18 years and some things are still the same but many things are different. Fin is not sure the murders were committed by the same person but he wants to stay and investigate. Mainly he wants to tie up some loose ends from his boyhood. He's a different person than he was then and he regrets some of his actions. He also has a unique insight into the community that may be useful in solving the murder. When he does figure out who the murderer is, he is facing even bigger problems.

I thought the plotting of this book was very clever. We get hints about things that occurred years before but May keeps us guessing about them for many pages. Then, just when one secret has been exposed, we get a hint about another. Very tight plotting. Highly recommended.
---

I passed this book on to my sister when I met her for coffee. Over a coffee and rhubarb danish at the Crusty Bun we had a great talk.

When you find a BookCrossing book it is yours to do with what you like. You can read it and keep it or pass it on or if you don't think it is your kind of book pass it on to someone who might like it or release it in a spot for someone else to find like you just did. Whatever you choose it would be great if you could write a short note letting us know what new adventures the book is on.
---

My sister has read this book and given it back to me. She said she enjoyed reading it and the first one in the series. Her quote for the books is "Any writer that can make the Outer Hebrides sound like a place worth visiting is a great writer."
---