City of God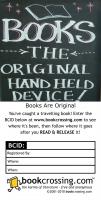 Registered by

gypsysmom

of
Winnipeg
,
Manitoba
Canada on 11/6/2015
2 journalers for this copy...

Better World Books had a sale in October and I couldn't resist the prices and free shipping so I ordered this book and 4 others.
---

This book is on the 1001 Books to Read Before you Die list. I try to read at least 10 books from the list each year. I'll never read all the books on the list since there are actually almost 1300 books mentioned in the different editions. This was one that I was looking forward to since I have read other books by Doctorow and I thought they were great. I wasn't quite as impressed with this book although it was mainly because of the structure, not because of the content which I thought was well-written and interesting.

It is really hard to summarize the plot of this book because there are a number of storylines some of which intersect but others just seem to be left hanging. I guess the main plot is the one involving Father Pembroke (known as Pem as I shall refer to him henceforth), a preacher in the Episcopalian (or what nonAmericans would call Anglican) church. He works out of a small rundown church in a poor part of New York City. His church is robbed and one of the things taken is the large crucifix from in front of the altar. Some time later Pem receives a call from a Jewish rabbi who has found the crucifix on the roof of the building which houses his temple and his home. This brings Pem into contact with the rabbi and his wife who is also a rabbi. The wife's grandfather had survived living in a Jewish ghetto during World War II where he was entrusted to smuggle out accounts of how the Germans treated the Jews in the ghetto. These accounts were hidden by a Catholic priest but after the war they disappeared. Pem and the two rabbis embark on a search for them.

There are many diversions from this plot. Some are about how the universe was created; some discuss the origins of the book we call The Bible; yet others are restatements of classic songs. There is also a thread about the author doing research for this book including discussions he has with Pem and other people. Overall, the theme is about different religious and non-religious beliefs and how modern life views these beliefs.

I'm not sure that all of the diversions add to the book and some, in fact, seemed downright distracting. For instance, there is a story about some unnamed man who meets a married woman at a party, has an affair with her, then takes over the identity of her husband who becomes a street person. I have no idea what that had to do with the book.
---

Journal Entry
3
by

gypsysmom

at
Second Cup – Graham & Edmonton in Winnipeg, Manitoba Canada on Thursday, November 23, 2017
Released 1 yr ago (11/24/2017 UTC) at Second Cup – Graham & Edmonton in Winnipeg, Manitoba Canada
WILD RELEASE NOTES:
I will take this book to our Winnipeg meetup today. If no-one takes it home I will leave it on the OBCZ shelf for a new reader.


When you find a BookCrossing book it is yours to do with what you like. You can read it and keep it or pass it on or if you don't think it is your kind of book pass it on to someone who might like it or release it in a spot for someone else to find like you just did. Whatever you choose it would be great if you could write a short note letting us know what new adventures the book is on.
---
Just picked this book up at the bookcrossing meet-up.
---
Released into the wild, June 24, 2018.
---