The Girl in the Spider's Web: A Lisbeth Salander Novel, continuing Stieg Larsson's Millennium Series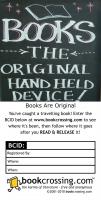 Registered by

gypsysmom

of
Winnipeg
,
Manitoba
Canada on 10/7/2015
This book is in a Controlled Release!
2 journalers for this copy...

My husband continues to amaze me. On my birthday he presented me with two books, this being one. He bought it as soon as it was released and kept it for 3 weeks. I had not really thought about this book even though I was a fan of the Stieg Larsson trilogy so I certainly had not given him a hint about it. What a great guy!

Everyone in the world who reads must know the story about how Stieg Larsson wrote three books and then abruptly died without a will. His longtime companion was left without any portion of his by then considerable estate and his father and brother inherited everything. I was appalled that they would not do the right thing and share the estate with the woman who was in all but paper a spouse to Larsson. Thus, I had mixed feelings about reading this book which was commissioned by the brother and father since they will gain even more from Larsson's genius. Nevertheless once it was in my hands I could not help but read it.

I have to say that, while not quite up to Larsson's three books, this is a gripping thriller. Mikael Blomkvist and Lisbeth Salander are together again fighting the forces of evil which this time are represented by Lisbeth's twin sister, Camilla, and remnants of their father's gang. Lisbeth has been hunting for Camilla for some time. Finally, after breaking into the NSA data intranet she finds indications of her plans. Blomkvist, on the other hand, has been having a difficult time finding anything interesting to write for his magazine Millennium. Then he is summoned in the middle of the night to the home of a genius computer scientist who is sitting on some explosive knowledge. Blomkvist gets to the man's house minutes after he has been killed and Mikael actually saw the killer. Inside the house, the man's autistic son, August, is alive having witnessed the murder. August does not speak so his value as a witness seems limited. As it happens August is a savant and can draw scenes with photographic accuracy. Once the killer realizes this he has to try to kill August as well. Salander and Blomkvist reunite to prevent this.

There is obviously going to be a sequel to this book. And I will be reading it I'm sure.

---
Got this book from Gypsysmom a while back and finally got down to it in my 'to read' pile of books. I too enjoyed the Stieg Larsson trilogy so she thought I might enjoy Lagercrantz's continuation of the series. I must admit that I did enjoy the story, however, David Lagercrantz is no Stieg Larsson in my humble opinion - not edgy enough nor did he get the adrenaline pumping as Larsson did. If there are more in the series, I would probably read them but won't be the one to actively go out and buy them (I'll leave that for Gypsysmom's husband :)
Not sure whether this book is meant to be returned to the owner or sent travelling so I will err on the side of caution and return it.
---

BellBelle returned this to me a week ago when she came to pick me up for a luncheon of retirees from our former workplace. It was my first outing since coming home from the hospital after knee replacement surgery so I enjoyed myself immensely.

I'm not sure if my sister and her husband have read this so I will offer it to them.
---

I am passing this book on to my sister as neither she nor her husband have read it.

When you find a BookCrossing book it is yours to do with what you like. You can read it and keep it or pass it on or if you don't think it is your kind of book pass it on to someone who might like it or release it in a spot for someone else to find like you just did. Whatever you choose it would be great if you could write a short note letting us know what new adventures the book is on.
---