Inside the O'Briens: A Novel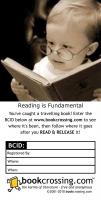 Registered by

booklady331

of
Cape Coral
,
Florida
USA on 7/19/2016
3 journalers for this copy...

Journal Entry
1
by

booklady331

from
Cape Coral
,
Florida
USA on Tuesday, July 19, 2016
If you are new to BookCrossing and found this book and this site, Welcome!

You have in your hands a free gift. This book is yours to do with as you wish...read it, share it, keep it, pass it on!

I've registered this at BookCrossing.com so that I can keep up on where it goes, who reads it, and what they thought of it. If you like the BookCrossing concept, you might want to register yourself with a screen name, so that you can keep up on this book, and maybe release others also! It's all confidential (you're known only by your screen name and no one is ever given your e-mail address), fascinating, and fun!

Thank you for picking up this book. I'd love to see an entry letting me know it is safe with you. Do with it as you please... read it (or not!), give it to a friend, keep it, leave it in the wild - it's up to you! Enjoy! If you like you can mention me, booklady331, as the one who referred you.



---

Journal Entry
2
by

booklady331

at
Cape Coral, Florida USA on Saturday, October 08, 2016
After having read "Still Alice" and "Left Neglected" I couldn't wait to read this book. I was not disappointed. I felt like I was living with the O'Briens and struggling with them. I knew very little about Huntington's disease and now I know a little. My neighbor lost her two brothers to this disease, but I never understood what she was going through until now. What a horrible disease. I pray for a cure.
---

Journal Entry
3
by

booklady331

at
Cape Coral, Florida USA on Sunday, March 26, 2017
Enjoy! RABCK to Meekachu07, this book was requested for a VBB and I couldn't find it. I thought I had sent it to another BCer, but I found it today. Releasing also for Oh, the Places We Can Go 2017
Brien (Kentucky, United States - USA)

Meekachu07 will be surprised as I sent another book by the same author in its place. Hope you enjoy!
---
Journal Entry
4
by
Meekachu07
at
Saint Paul, Minnesota USA on Wednesday, April 05, 2017
Arrived today....thanks for sharing
---
Journal Entry
5
by
Meekachu07
at
Saint Paul, Minnesota USA on Thursday, May 11, 2017
Just finished this today and felt it was a very compelling read. I had not read anything by this author and am glad that this book was sent my way. Booklady thanks for sending this as well as the other book by this author that I will now have to make sure I read. Not sure yet what I will do with this book but I hope to find a new home for it soon.
---
Journal Entry
6
by
Meekachu07
at
Winchester, Massachusetts USA on Saturday, August 26, 2017
Shipping to Winchester, MA via a bookring. Enjoy!
---

Thank you for sending this, Meekachu07! I look forward to reading it.
---

This was a powerful and devastating read. It seemed so realistic that I had to keep reminding myself it was fiction. Having the strong likelihood of being struck by a debilitating, terminal disease and deciding whether to find out in advance is terrifying. How does one's life change with or without testing? The characters were all real, each with their own story, though this novel focuses on youngest daughter Katie as she struggles with major life issues, including whether to be tested for the Huntington's (Chorea) that is destroying her family.

The Boston setting made it that much more real for me.

I'm currently facing a similar decision, as it is now possible to be tested for future Alzheimer's, a disease my mother and other family members on her side suffered from. I've long assumed that I will get it as well, and have lived life accordingly, e.g. going to BC conventions when I really can't afford it.😊 But do I really want to know with more certainty?

I haven't read any of Genova's other novels, but definitely want to now! Especially Still Alice

Thanks again to the previous readers for sharing this amazing novel!
--------------------------------
Reserved for bookstogive's General Literature VBB.

---