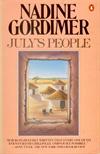 July's People
Registered by

Stoepbrak

of
Cape Town
,
Western Cape
South Africa on 6/13/2015
1 journaler for this copy...
Journal Entry
1
by

Stoepbrak

from
Cape Town
,
Western Cape
South Africa on Saturday, June 13, 2015
-- There is more than one copy of the book on my bookshelf --
Synopsis (credit: back cover)
For years, it had been what is called a "deteriorating situation." Now all over South Africa the cities are battlegrounds. The members of the Smales family — liberal whites — are rescued from the terror by their servant, July, who leads them to refuge in his native village. What happens to the Smaleses and to July — the shifts in character and relationships — gives us an unforgettable look into the terrifying, tacit understandings and misunderstandings between blacks and whites.
On the
1001 Books You Must Read Before You Die
List.
(Bought second-hand at Help the Rural Child Charity Bookshop, Sea Point.)
The book forms part of my permanent collection.
---
The footnote contains a spoiler, so, if you haven't read the book yet and still wish to, skip the insert below the line.
In his song
Als het net even anders was gegaan
Herman van Veen describes how very different things would have been today if the outcome of World War II turned out just a little bit differently.
In similar fashion, Nadine Gordimer in
July's People
considers one possible outcome for post-apartheid South Africa. The book was published in 1981, so one can only speculate if this represents the outcome she expected or if she put it out there as a stark warning of what might well happen.
The answer isn't important. What is important is that she has left us with a painfully realistic portrayal of what could so easily have transpired. The various traditional roles and relationships of the past were found no longer to be functional in the very different milieu of a rural village and vastly altered circumstances: roles and relationships had to be shaped anew.
[1]
A short novel, written with great skill, by someone who knows her country and its people.
---
1
The interesting thing is how difficult it was for the parents to adapt, despite their liberal world-views and the sympathetic and understanding way they have treated their black servants in the days before the crisis. In contrast, their children adapt a lot quicker, accepting the language, ways and relationships of the community around them. Herein lies the hope for a new South Africa: a simple willingness to adapt and get on with life rather than overanalysing it from a safe distance.
The ending of the book is not conclusive, perhaps deliberately so. For an interesting view on it, read the paper by Abdullah K Shehabat and Hussein H Zeidanin,
Maureen between Criticism and Praise: Reading the Ending of Nadine Gordimer's July's People
.
---