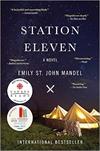 Station Eleven
Registered by

cestmoi

of
Hamilton
,
Ontario
Canada on 8/26/2023
2 journalers for this copy...

From amazon.com:
One snowy night, a famous Hollywood actor dies onstage during a production of King Lear. Hours later, the world as we know it begins to dissolve. Moving back and forth in time—from the actor's early days as a film star to fifteen years in the future, when a theatre troupe known as the Travelling Symphony roams the wasteland of what remains—this suspenseful, elegiac, spellbinding novel charts the strange twists of fate that connect five people: the actor, the man who tried to save him, the actor's first wife, his oldest friend and a young actress with the Travelling Symphony caught in the crosshairs of a dangerous self-proclaimed prophet. Sometimes terrifying, sometimes tender, Station Eleven tells a story about the relationships that sustain us, the ephemeral nature of fame and the beauty of the world as we know it.
---

My son recommended this to me and it's not the usual kind of book I read, but I absolutely loved it. Science fiction with a bit of fantasy and takes place in Canada (mostly!).

It's a stark look at what could happen after a pandemic.

This is reserved for Hoserlauren next time I see her or go out her way.

---

Journal Entry
3
by

cestmoi

at
Meet-Up in BookCrossing Meet-Up, A Bookcrossing member -- Controlled Releases on Sunday, September 17, 2023
Released 2 mos ago (9/23/2023 UTC) at Meet-Up in BookCrossing Meet-Up, A Bookcrossing member -- Controlled Releases
WILD RELEASE NOTES:

Passing along to Hoserlauren.
Congratulations, you have picked up a travelling book!
If you found this at a LFL (Little Free Library) or other book exchange shelf, then you already have
BookCrossing
spirit! So why not join us in making the whole world a library?
If you have a moment, we'd love you to let us know you have the book as we're keen to follow its journey. You can even post a review when you've read it before passing it on to the next lucky person or if you love it, it's yours to keep!
Happy reading!
Not sure what to do? Follow these steps!
1) You may continue as an Anonymous Finder. Or, Register as a member , then you too will receive future journal entries on this book and track its journey around the world!
2) Make a journal entry on this book to let us know how you found it!
3) If you choose to read the book, please make another journal entry when you finish it to let us know what you thought!
4) Ready to pass the book on? Click on "make release notes" to let us know where it's going! Leave the book in a public place or give it to a friend!
---

Journal Entry
4
by
HoserLauren
at
Burlington, Ontario Canada on Saturday, September 23, 2023
Thank you Enza! I'm really looking forward to this one. I *LOVED* the TV show and enjoyed the author's most recent book.
---

Journal Entry
5
by
HoserLauren
at
Burlington, Ontario Canada on Saturday, November 4, 2023
2023 is the year of me becoming an Emily St. John Mandel fan. I had read Sea of Tranquility earlier this year and really enjoyed it. I also enjoyed this one, but differently. There were some things I liked more about that book (the surprise of how all the characters connected together) and some things I liked more about this book (the hope for humanity and it not being a typical bleak post-apocalyptic story). I would have enjoyed a little bit more character development (particularly Tyler and Elizabeth, how did they turn out to be like that?) but I still enjoyed this one a lot!
---