Dork Diaries 1: Tales from a Not-So-Fabulous Life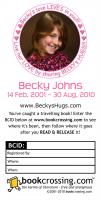 3 journalers for this copy...

For Nikki J. Maxwell, a new school means a new diary, a new crush, and a new Mean Girl to contend with.
---

Journal Entry
2
by
authorauthor
at
Alexandria, Virginia USA on Saturday, December 09, 2017
Giving this one away at the BC-DC holiday party.

********************************

Welcome to BookCrossing!

Making a journal entry here lets me know the book has been found and is safe in your hands. The book is yours now! Read it, give it to a friend, pass it on, or keep it forever--it's your choice.

If you pass it on to someone or leave it "in the wild" for someone else to find, please make another journal entry or release notes here to explain that it's traveling to find another home.

You can remain anonymous on the website or join BookCrossing. Joining is free, safe, and spam-free and you'll get an e-mail every time a new person finds this book and logs in on the site to say so. You'll be able to watch it move around and find out where it's been and what other readers thought of it.

I hope you enjoy the book. Happy reading!

---


This is one of the books that came home from last weekend's BC-in-DC holiday party with me. I'm setting this aside to bring to one of the book festivals next spring.
This book was registered in memory of my daughter, who was killed in a tragic accident on 30 August 2010. Becky's love lives in you! Live her love by sharing Becky's Hugs. Learn more about her and her legacy by visiting the
Becky's Hugs page
on Facebook.
---

Journal Entry
4
by
ResQgeek
at
Day of the Book (street festival) on Howard Avenue in Kensington, Maryland USA on Friday, April 13, 2018
Released 9 mos ago (4/22/2018 UTC) at Day of the Book (street festival) on Howard Avenue in Kensington, Maryland USA
WILD RELEASE NOTES:
This book will be available at the BookCrossing booth at the festival.
======================

DEAR FINDER,
Welcome to BookCrossing.com, where we are trying to making the whole world a library!


If you have not already done so, please make a journal entry so we know this book has found a new home. You don't need to join BookCrossing and you can remain completely anonymous. However, we encourage you to join so that you can follow this book's future travels. It's fun and free, and your personal information will never be shared or sold. If you decide to join, consider listing ResQgeek (or any of the other journalers) as referring you.


Take your time reading the book, and after you finish, please make another journal entry to record your thoughts about it. This book is now yours, and you can keep it if you choose, though we would love for you to share it. If you pass it along, please make a release note to let others know where you left it.


I hope you enjoy the book!

---

Journal Entry
5
by

AnonymousFinder

at
Kensington, Maryland USA on Sunday, April 22, 2018
I got this book at the Kensington Book festival. I already read it and thought it was very interesting! Thanks for giving me the opportunity to read this book!
---