The Map of Heaven: How Science, Religion, and Ordinary People Are Proving the Afterlife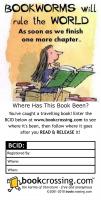 Registered by

booklady331
of
Cape Coral
,
Florida
USA on 5/23/2015
3 journalers for this copy...

Journal Entry
1
by

booklady331
from
Cape Coral
,
Florida
USA on Saturday, May 23, 2015
If you are new to BookCrossing and found this book and this site, Welcome!

You have in your hands a free gift. This book is yours to do with as you wish...read it, share it, keep it, pass it on!

I've registered this at BookCrossing.com so that I can keep up on where it goes, who reads it, and what they thought of it. If you like the BookCrossing concept, you might want to register yourself with a screen name, so that you can keep up on this book, and maybe release others also! It's all confidential (you're known only by your screen name and no one is ever given your e-mail address), fascinating, and fun!

Thank you for picking up this book. I'd love to see an entry letting me know it is safe with you. Do with it as you please... read it (or not!), give it to a friend, keep it, leave it in the wild - it's up to you! Enjoy! If you like you can mention me, booklady331, as the one who referred you.



---

Journal Entry
2
by

booklady331
at
Cape Coral, Florida USA on Friday, February 23, 2018
I liked the way the author divided the chapters into the gift of: knowledge, meaning, vision, strength, belonging, joy, and hope.


---

Journal Entry
3
by

booklady331
at
Cape Coral, Florida USA on Friday, March 02, 2018
Enjoy! To BOOKWORKINUSALL as a RABCK for Oh, the Places We Can Go Release Challenge 2018
---

Journal Entry
4
by

BOOKWORMINUSALL

at
Mesa, Arizona USA on Friday, March 16, 2018
Safely arrived!!! ; ) THANK YOU so much, for this RABCK sequel book to "Proof of Heaven" https://www.bookcrossing.com/journal/12396546 by the same author, booklady331. : ) While I am not one who would need to have "Proof", nor a "Map" of Heaven, I am happy these kind of books are available for those in the world that need ..."evidence of things not seen", and that the door continues to open for scientists and skeptics to...get on board!!! ; ) I have been leaving in place and passing forward, the little calendar pages inside the books, and the lovely little bookmarks cut from special Christmas Cards that you make, but it may well be that the Special Angel Wing bookmark that arrived with this book, would be one I hold onto for awhile. ; ) I'm about a third of the way through reading of my May KTM Book..."Proof", and I'll read this "Map" for my April KTM Book, then offer both as a RABCK to KTM within the BC Family.
---

Journal Entry
5
by

BOOKWORMINUSALL

at

Mesa, Arizona USA on Tuesday, April 10, 2018

While I do realize and respect the fact that there are those who do need to highlight and write in books as they read them, honestly, I have never been one to do so, and have always had a great deal of difficulty reading books in this condition...although I managed to work through this one with its "gentler" markings than some Library Books I have come across!!! ; ) THANK YOU AGAIN for sending this RABCK, with one of my favorite Bookcrossing Bookplates, booklady331...your generosity and kindness are GREATLY APPRECIATED!!! : )

From the Introduction...

I am the child of earth and starry heaven, but my real race is of heaven. ~ Fragment from an ancient Greek Text giving instructions for the newly dead soul on how to navigate the afterlife.

Miracles happen!!! I not only believe in them, I have been blessed to be gifted with, and be of part of...MANY miracles in my lifetime. I am profoundly grateful. Turning a staunch skeptical scientist into a human being with eyes wide open to the larger love filled world beyond that we all have surrounding us on a physical plane on a daily basis, is yet one more in a myriad of subtle signs that everything that happens fits into a pattern of good, because "we know that all things work together for good to them that love God, to them who are the called according to his purpose", regardless of what label, or name one may address the higher power that...being one people...we are all attached to.

This author, who like many of us it seems, continues trying to make sense of this world we live in and the one beyond, and in doing so, he includes many famous quotes in his writings, like this one from Chapter One of this book entitled: The Gift of Knowledge...

What we call learning is only a process of recollection. ~ Plato

And this one from Chapter Two entitled: The Gift of Meaning...

"More than anything else, the future of civilization depends on the way the two most powerful forces of history, science and religion , settle into relationship with each other." ~ Alfred North Whitehead, Philosopher

I don't recall seeing any biblical quotes directly presented in either the "PROOF" or the "MAP", although sentence structure and wording he has used in places, is filled with it's deconstructed presence, reminiscent of the fact that we are all filled with Spirit.

"Ask, and it shall be given you; seek, and ye shall find; knock, and it shall be opened unto you: For every one that asketh receiveth; and he that seeketh findeth; and to him that knocketh it shall be opened." ~ Matthew 7:7-8 King James Version (KJV)

This book and it's companion [Proof of Heaven https://www.bookcrossing.com/journal/12396546] , will be traveling to whiskeyjane as a RABCK, as soon as I receive her address in New Mexico. ; )



HAPPY READING!!!



Sending this one along with its little hand cut Angel Wing Bookmark that I SO LOVE and thought to keep, but realize it is meant to travel to touch others with its joyful healing. ; )

---

Journal Entry
6
by

BOOKWORMINUSALL

at

Albuquerque, New Mexico USA on Saturday, April 21, 2018

Haven't heard from whiskeyjane since she expressed interest in this book I offered her [Proof of Heaven: A Neurosurgeon's Journey into the Afterlife
by Eben Alexander https://www.bookcrossing.com/journal/12396546], but just found a PM from December in which we exchanged addresses, so I DO have it now and am sending both books off as a Surprise RABCK for Multiple Challenges (I'll list them here a little later) to celebrate BOOKCROSSING DAY 2018 today!!! : D



HAPPY READING!



5/24/2018 UPDATE...looks like I still need to add the Challenges here, too ; ):

Didn't want to do a new Journal Entry here, as I believe that would have goofed things up and had me "catching" this instead of whiskeyjane. Never a dull moment in this life, and really, what WOULD we DO with one : D...on top of everything else, after dealing with tainted lettuce illness, and now in the middle of an added round of doctors and imaging lab appointments for yet another possible broken foot and/or toe that I am hoping not to "enjoy" another full boot for our Arizona summer with...after hearing from whiskeyjane last week...I finally managed to get this Bookcrossing Day RABCK dropped off to the Post Office and sent out via Media Mail with the correct address yesterday. ; ) Don't have the Postal Receipt with the Tracking Number available at the moment, but with Memorial Day being Monday 5/28...I was told delivery is expected on Tuesday. ; )
---

Journal Entry
7
by
whiskeyjane
at
Albuquerque, New Mexico USA on Wednesday, May 30, 2018
Thank you bookworminusall! The Map of Heaven arrived safely this afternoon right on time. I can't wait to read this - I LOVE anything about The Afterlife and I am a believer in signs, having received many! Thanks again!
---

Journal Entry
8
by
whiskeyjane
at
Albuquerque, New Mexico USA on Friday, November 23, 2018
WELCOME TO BOOKCROSSING Congratulations! You found a traveling book! This book has been set free. It is yours to keep or share. Please take a moment to make a journal entry to let me know the book has found a new home

I finished Proof of Heaven, now starting this one
---