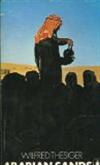 Arabian Sands
3 journalers for this copy...
Educated at Eton and Oxford, Thesiger was repulsed by the softness and rigidity of Western life: "the machines, the calling cards, the meticulously aligned streets." In the spirit of T. E. Lawrence, he set out to explore the deserts of Arabia, traveling among peoples who had never seen a European. His now-classic account is invaluable to understanding the modern Middle East.

" He is perhaps the last and certainly one of the greatest of the British travelers among the Arabs..The narrative is vividly writen with a thousand little anedoctes and touches wich bring back to any who have seen these countries every scene with the colour of real life"
The Sunday Times

Describes his extraordinary jorneys made in and around the Empty Quarters from 1945 to 1950, at wich time much of that region had not yet been seen by europeans.Over the course of five years, the early explorer recorded the lives of the remote tribes he met in an often hostile land. His tales of hardships, unlikely friends and an age now passed have a timeless appeal for all travellers.

For he, who loves the sahara desert, this book remains unique and a lived testimony and also a memorial to a vanish past , atribute to a once a magnificent people.

Penguin Books ( with sixteen plates)

EDIT : Sent as Book offer of April, won by Tarna.
Happy reading !
---

Arabian sands
arrived today with two lovely postcards. It was so thoughtful of you to translate the Ernest Hemingway citation on one of them. I'm so exited about this book. As I told you earlier, long time ago I read about experiences of a Finnish Orientalist
Georg August Wallin
. I just found out that there's another book that's published more recently. I think I'll go and get it from the library so that I can compare the experiences of these two explorers.
I love B&W photographs with all the different shades of grey. I had to take a little peek, and the photos in the book are just great. How come they don't take such pictures any more?
Thank you so much, joaquimponte!
Wilfred Thesiger
at Wikipedia
---

What an interesting read this was! Most of all, I enjoyed descriptions of the Bedu culture. I had
Aavikon vaeltaja : elämä ja päiväkirjat
(2007) – which consists of letters and diaries of
Georg August Wallin
– with me at same time I was reading
Arabian Sands
. It was truly interesting to read about the experiences of two explorers travelling a hundred years apart. The biggest difference, however, between those two was that Thesiger travelled as himself, a Christian European whereas Wallin assumed new identity as Abd al-Wali, a Muslim. I'm amazed much Thesiger learned, how much the bedus trusted this Christian traveller.
Thank you ever so much, joaquimponte, for sharing this book with me. Next, the book will go on with its travels and head for Canada to a new reader.
---

Released 2 yrs ago (10/19/2018 UTC) at Tampere, Pirkanmaa / Birkaland Finland
CONTROLLED RELEASE NOTES:
Arabian Sands has started its journey to mcsar in Richmond, BC. Enjoy!
---

The book has already arrived. Thank you. After reading your journal entry, I am very happy that you picked this one to send me. I am very intrigued. I adore the origami bookmark you included.
---