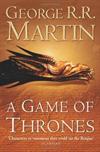 A game of thrones
3 journalers for this copy...
Summers span decades. Winter can last a lifetime. And the struggle for the Iron Throne has begun.

As Warden of the north, Lord Eddard Stark counts it a curse when King Robert bestows on him the office of the Hand. His honour weighs him down at court where a true man does what he will, not what he must ...and a dead enemy is a thing of beauty.

The old gods have no power in the south, Stark's family is split and there is treachery at court. Worse, the vengeance-mad heir of the deposed Dragon King has grown to maturity in exile in the Free Cities. He claims the Iron Throne.
---
Reserved for Lamilla for the European rag game. It was sent today. Enjoy!
---
Arrived today. Thank you very much for this wishlist book
---
Reserved for birthday group
---
happy birthday!

You've found a travelling book. Hurray!
The book's journey continues by its finder's cooperation and creativity. By making a journal entry on this book, you can add to the book's story as it travels from reader to reader around the world.
Enjoy your reading!

Привет!
Спасибо, что нашли время зайти на сайт и сделать запись в журнале! Напишите, когда и где вы нашли книгу.
Перед тем, как попасть к Вам, она побывала в других уголках света. История ее путешествий записана на сайте, и теперь к ней добавился еще один пункт. Я очень рада, что она нашла нового читателя в Вашем лице.
---
Journal Entry
6
by

T_richardson_x

at
Abercynon, Wales United Kingdom on Sunday, January 21, 2018
Thank you very much Lamilla for the book and the card!
---