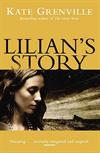 Lilian's Story
2 journalers for this copy...
---
Journal Entry
2
by
anathema-device
at
Graz, Steiermark Austria on Thursday, April 23, 2015
Well, like BookCrossing, picking up second-hand books on a whim can lead to nice surprises. I'd never read anything by Kate Grenville before, but I seem to like Australian writers, especially women's voices. And I was intrigued by the blurb, which promised the life story of a girl from "a prosperous middle-class family" which ends with her "as a cheerfully eccentric bag-lady living on the streets, quoting Shakespeare for a living".
In the end, this book was so much more than I expected. Grenville's style is remarkable, and I loved reading a book with a protagonist who is a complex, strong-minded, adventurous, fat tomboy. Sure, there are passages in which you can feel a persistent shadow in the prose, a violent threat barely under the surface - and there are scenes of sudden terrible violence too. But there is also Lilian's humour and optimism and her willingness to deal with whatever comes next in her own way.
I enjoyed reading this and am currently looking for a new home for it.
---
Journal Entry
3
by
anathema-device
at
Graz, Steiermark Austria on Wednesday, April 29, 2015
This book is now travelling all the way to Kiribati (what a great BookCrossing opportunity!) to be read by J4shaw.
Hope you'll like it as much as I did! :)
---
Journal Entry
4
by

J4Shaw

at
Tarawa Island, -- Not a city, Geographical features, etc. -- Kiribati on Monday, June 8, 2015
Thank you so much anathema-device, this book arrived in Kiribati today.
Look forward to reading this after reading the author's debut novel earlier this year.
---