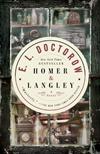 Homer & Langley
Registered by
ruzena
on 3/12/2015
3 journalers for this copy...
(Random House 2009,) Random House Trade Paperback 2010. 208 p.

Homer (1881–1947) and Langley Collyer (1885–1947) were two American brothers. They lost their parents when they were young adults. Homer was blind since his teens, and Langley was mentally damaged in the war. They became famous because of their bizarre natures and compulsive hoarding. For decades, the two lived in seclusion in their grand Harlem house where they obsessively collected books, furniture, musical instruments, and many other items, including a Model T Ford inside the house. The eccentric brothers' collections at last ended up in booby traps in corridors and doorways to ensnare intruders. In March 1947, both were found dead in their home surrounded by over 140 tons of collected items that they had amassed over several decades.

That was the true story.
In his novel E.L. Doctorow uses the real names and place (as the story is well-known anyway) but creates some beautiful fiction around the case. The brothers' story is lengthened, so the fictive Homer and Langley live until 1970's. Homer is the narrator. In his story the US history runs through decades, with recognizable events and with a delicate sense of reality but as a rather laconic interpretation by an outside observer.

A most beautiful thing is the picaresque nature of the story. The brothers proudly paddle through the times. They are not in the least ridiculous or pitiful. They are what they are - and you like them! They differ in their – probably fictive - personalities: Langley is thorough in every respect, compulsive with his "theory of replacements", rigid; Homer is broadminded, artistic by nature, and he is the one who "sees". - The writer obviously uses seeing / not seeing / blindness intentionally in various connections, Homer Collyer having presented the good opportunity to this theme.

The text is fine – easy read, lucid, vivid. One could write a thousand pages both about these oddballs and about the era, but Doctorow left out every unnecessary word.

-ruzena

Bookray on usual terms: make a JE when receiving the book, read it in one month, write another JE, and send the book on.

Annimanni (Espoo)
Savotar (Turku)
*over*




---
Journal Entry
2
by
ruzena
at
Bookring/Bookray, -- By post or by hand/ in person -- Canada on Thursday, June 11, 2015
Released 6 yrs ago (6/11/2015 UTC) at Bookring/Bookray, -- By post or by hand/ in person -- Canada
CONTROLLED RELEASE NOTES:
The guys are on the road.
---

---

A brief book, but a sweeping story and a fascinating account of the lives of two sympathetic oddballs in the changing times of the 20th century. I liked the warmth and gentleness with which Doctorow described the brothers and their eccentrities as well as the way the outside world, its events and fashions and people, entered their home and changed them and their lives. A very enjoyable read. Thanks for sharing, ruzena!
---

Journal Entry
5
by
Savotar
at
Turku, Varsinais-Suomi / Egentliga Finland Finland on Monday, July 6, 2015
The book is in Turku now. I think I will read this next. I hope nothing comes up until I finish the one I'm reading now. Thank you Ruzena and Annimanni!
---