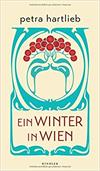 Ein Winter in Wien
Registered by

fannynatalie

of
Wien Bezirk 08 - Josefstadt
,
Wien
Austria on 12/25/2018
3 journalers for this copy...

Journal Entry
1
by

fannynatalie

from
Wien Bezirk 08 - Josefstadt
,
Wien
Austria on Tuesday, December 25, 2018
Um 1910. Marie arbeitet als Kindermädchen bei einer angesehen Familie im Wiener Cottage-Viertel. Eines Tages wird sie vom Herrn des Hauses zur nahegelegenen Buchhandlung geschickt, um ein Buch abzuholen. Doch sie kommt mit leeren Händen, völlig durchnässt vom Schnee, zurück. Der Band sei noch nicht eingetroffen, Buchhändler Oskar bringe ihn so bald wie möglich persönlich vorbei. Als Oskar am gleichen Nachmittag am Haus in der Sternwartestraße klingelt, hat er gleich zwei Bücher dabei: eines für den Herrn Schnitzler und das andere für Marie, mitsamt einer persönlichen Notiz an das Fräulein. Er möchte sie gerne wiedersehen…
---

Journal Entry
2
by

fannynatalie

at
Wien Bezirk 08 - Josefstadt, Wien Austria on Friday, January 25, 2019
Released 1 mo ago (1/25/2019 UTC) at Wien Bezirk 08 - Josefstadt, Wien Austria
CONTROLLED RELEASE NOTES:
Soll zu eligi reisen.

Liebe/r Finder/in,
herzlichen Glückwunsch, du hast ein reisendes Buch gefunden! Ich hoffe, es gefällt dir.
Ich freue mich, wenn du einen Journal-Eintrag machst, damit ich weiß, wo das Buch gerade ist und was du damit vor hast. Wenn dir die Idee von Bookcrossing gefällt, kannst du dich bei Bookcrossing registrieren, das ist kostenlos und anonym. Du kannst dadurch den weiteren Weg dieses Buches verfolgen. Infos auch auf http://www.bookcrossers.at/
bzw. http://www.bookcrossers.de/

In Österreich gibt es ein eigenes Bookcrossing-Forum: http://bcat.az.in/forum/
dort gibt es Hilfe bei Fragen und Infos zu Bookcrossing und auch der Spaß kommt nicht zu kurz. Viele erholsame Stunden und Spaß beim Lesen!

Hello! Bookcrossing is an online community of book lovers dedicated to sharing books with each other and the world at large. We are curious to see how far and wide this book will travel and how its readers like it. Kindly make a journal entry to let us know it's found a new reader.
Feel free to read and keep this book, pass it on to a friend, leave it back or somewhere else for the next reader. If you journal this book as a member, then you will be able to follow the book as it travels around. Happy reading!
---
Das Buch wurde mir von fannynatalie übergeben. Bei nächster Gelegenheit wandert es weiter zu eligi.
---
Das Buch wird an eligi weitergegegeben.
---

herzlichen Dank, dass ich mitlesen darf!
---

Im September 1911 tritt Marie ihre Stelle als Kindermädchen im Haus von Arthur Schnitzler an - und endlich beginnt für sie, die von einem Bauernhof in Kirchschlag (OÖ) stammt, ein schönes Leben.

Dieses Buch ist der erste Band einer sehr schönen Reihe, beginnend mit dem Winter 1911.
Gleich im Anschluss hab ich auch "Wenn es Frühling wird in Wien" (kein registriertes BC-Buch), in dem die Handlung im Frühjahr 1912 weitergeführt wird, gelesen.
Besonders gefallen haben mir in beiden Büchern die örtlichen Beschreibungen, da ich mich an die Gegend in Währing mit Sternwartestraße, Gentzgasse, Währingerstraße, etc aus meiner Studienzeit noch gut erinnern kann.

Leider wird in dieser Geschichte immer "gelaufen" wenn "gehen" gemeint ist und da die Handlung in Wien spielt, finde ich das unpassend und störend.

Trotzdem freue ich mich schon auf den nächsten Band "Sommer in Wien", der noch heuer erscheinen wird.

Danke dass ich mitlesen durfte, das Buch wird demnächst wieder zu fannynatalie zurückreisen
---