Les Chronolithes
Registered by
Krissa33
on 12/9/2015

This Book is Currently in the Wild!
2 journalers for this copy...
Scott Warden était là à Chumphon, Thaïlande, quand le premier chronolithe est apparu : un obélisque de plus de cent mètres de haut, d'un bleu impossible, gelant un paysage de jungle dévasté ; un monument commémorant une victoire, celle du seigneur de la guerre Kuin, victoire qui n'aura lieu que dans vingt ans et trois mois. Mais qui est Kuin ? Un tyran, le sauveur d'une humanité à la dérive, un extraterrestre aux traits indubitablement asiatiques, un futur dirigeant chinois, une rumeur qui, grâce à la turbulence Tau, deviendra réalité ? Et que sont réellement ces chronolithes qui ravagent le monde ? C'est à toutes ces questions que Scott et son ancien professeur de physique, Sulamith Chopra, devront répondre, non sans avoir à parcourir le globe, de Chumphon à Jérusalem, du Mexique au Wyoming.
---
Une histoire étrange, a-t-elle vraiment une fin?

Les bizarreries (bien connues des lecteurs de la SF) des sauts de temps, ou comment un événement du future peut intervenir dans le présent (et le modifier par la même occasion). Tout s'imbrique, et à la fin, plusieurs questions restent sans réponse - ou à l'imagination de nous, lecteurs.

Ça reste une histoire bien écrite, avec une suspense jusqu'au bout.

Pour les 10 ans de VIV-VIVENEF
Bonne lecture!
---
Journal Entry
3
by
Krissa33
at
Saint-Genès-Champanelle, Auvergne France on Thursday, December 17, 2015
Released 5 yrs ago (12/17/2015 UTC) at Saint-Genès-Champanelle, Auvergne France
CONTROLLED RELEASE NOTES:
Bonjour!
Vous avez trouvé un livre!
Henry Miller a dit un jour:
"Un livre n'est pas seulement un ami, il te donne aussi des nouveaux amis. Quand tu a possédé un livre dans tes pensées et dans ton esprit, tu t'es enrichi. Mais quand tu a donné ce livre à quelqu'un d'autre, tu t'es enrichi triplement ."
Donc, maintenant, vous pouvez lire ce livre, le garder ou le libérer à nouveau. Vous pouvez laisser un commentaire, gratuit et anonyme.
Vous pouvez aussi vous inscrire à
Bookcrossing
et participer!
Bonne lecture!
"Lire, c'est boire et manger. L'esprit qui ne lit pas maigrit comme le corps qui ne mange pas."
Victor Hugo
"Une lecture amusante est aussi utile à la santé que l'exercice du corps."
Emmanuel Kant
"When I get a little money I buy books. If any is left, then I buy food and clothes."
Erasmus
---
Journal Entry
4
by

VIV-VIVENEF

at
Ceyrat, Auvergne France on Sunday, December 27, 2015
10 ème BCVERSAIRE Grand merci pour ton choix! Je me réjouis de découvrir ce livre en pensant à toi
---
Journal Entry
5
by

VIV-VIVENEF

at
Ceyrat, Auvergne France on Sunday, May 2, 2021
Un saut dans le passé: mes 10 ans sont loin! un bond dans le futur avec ce roman époustouflant . Plus que de l'aspect SF, j'ai vibré à la chaleur humaine qui s'en dégage
Scotty m'a tenue en haleine tout au long du récit et m'a fait aimer ceux qu'il aimait, craindre pour leur vie et me réjouir de les savoir sauvés.
Merci Krissa de ce cadeau qui a attendu son heure pour m'enchanter
05/05/21
W
Pour le jeu de libération arts martiaux

---
Journal Entry
6
by

VIV-VIVENEF

at
L'Étang Grand in Pulvérières, Auvergne France on Wednesday, May 5, 2021
Released 3 mos ago (5/5/2021 UTC) at L'Étang Grand in Pulvérières, Auvergne France
WILD RELEASE NOTES: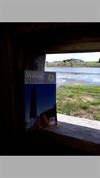 Cabane d'observation des oiseaux
---