Rooftops of Tehran
3 journalers for this copy...

Overview:
In a middle-class neighborhood of Iran's sprawling capital city, 17-year-old Pasha Shahed spends the summer of 1973 on his rooftop with his best friend Ahmed, joking around one minute and asking burning questions about life the next. He also hides a secret love for his beautiful neighbor Zari, who has been betrothed since birth to another man. But the bliss of Pasha and Zari's stolen time together is shattered when Pasha unwittingly acts as a beacon for the Shah's secret police. The violent consequences awaken him to the reality of living under a powerful despot, and lead Zari to make a shocking choice…
---

Journal Entry
2
by
conto
at
Lisboa (city), Lisboa (distrito) Portugal on Thursday, December 04, 2014

This isn't an amazing book, but I enjoyed the reading for it gives us a glimpse into the history and customs of Persians and life in the Iran of the 70s.
What I didn't like so much I later understood to be due to the fact that "The prose has the simplicity of a nonnative English speaker, which could be seen as clichéd (treasure of love, dark winter of my life) or charmingly romantic."
(from Publishers Weekly)
I can't see it as "charmingly romantic", but I can understand it must be difficult to write a great book in a language different from the one the author grew up with.
Anyhow, I believe there are lots of people who will love this kind of "let's cry our hearts out" kind of book so I'll put it on it's way out to find those readers.
Photo
:
World Press Photo of the Year 2009: "From the rooftops of Tehran, June."
(click to enlarge).
The photograph shows women shouting their objections to the re-election of President Mahmoud Ahmadinejad. This clandestine political protest, under the anonymous cloak of nighttime, turned out to be a precursor of demonstrations that were soon to hold Iran and the rest of the world in thrall.
---

Released 5 yrs ago (12/9/2014 UTC) at Lisboa (city), Lisboa (distrito) Portugal
CONTROLLED RELEASE NOTES: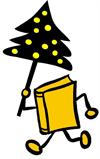 This one will go as a surprise for the 2014 Xmas Exchange edition.
I sincerely hope to meet your reading interests but it wasn't an easy match. I looked into your bookshelf and saw that you don't read much in english, even though you have already read one or another. This one is an easy reading, I promess you.
Have a wonderful Christmas and a magnificent New Year, with loads of great reads!
---

Journal Entry
4
by
PaiNatal
at
Lisboa - City, Lisboa (cidade) Portugal on Wednesday, December 10, 2014
HO HO HO! Merry Christmas to all bookcrossers around the world!
---

Journal Entry
5
by
eldaBonifacio
at
Leiria, Leiria Portugal on Tuesday, December 16, 2014
yeah! My first 2014 christmas' gift arrived! Thank you Conto! Certainly I will enjoy it, I trust in your choice! :)
Have a very nice Christmas and a wonderful 2015!
---