Uglies (Uglies Trilogy, Book 1)
Registered by

KateKintail

of
Burke
,
Virginia
USA on 10/31/2014

This Book is Currently in the Wild!
4 journalers for this copy...
Journal Entry
1
by

KateKintail

from
Burke
,
Virginia
USA on Friday, October 31, 2014
Bought this at a library used book sale.

I earread a copy of this in 2011 and had this to say:
I had heard about this series from a few people (friends, daughters of friends) and I'd seen it on the library shelves for a while. But it wasn't until I finally picked it up and read the description on the cover that I knew it was for me.

The world (utopia or dystopia-you decide!) that the characters live in is one where you undergo an operation on your sixteenth birthday to make you pretty. Then you get to go live in New Pretty Town with all the bubbly pretties and party your heart out. Being pretty means you have bigger eyes and look vulnerable, not like a threat. Being pretty means you'll be symmetric, and people looking at you will think anything you have to say is fantastic and believable. Being pretty makes you attractive enough to find a husband/wife to have children with; it's just how continuing the species works.

Tally Youngblood is not yet sixteen, which means she's still an Ugly, stuck finding her kicks doing fun things like sneaking around or doing tricks like crashing a party of Pretties just to see her best friend, who turned sixteen before she did. Then she meets Shay, who is questioning this whole world around them. Shay had friends who ran off to the Smoke, where people are able to escape society and grow up normally (though without the modern conveniences of city life). After Shay runs off and Tally is left alone again, she is recruited by Special Circumstances to go get Shay and bring her back to be pretty, which is what Shay probably wants deep down inside anyway. So really this is doing her a favor. And Tally will not be allowed to have her surgery until she completes the mission.

First off, I love the complex society built within this series. Just when I thought I had seen it all, there was yet ANOTHER layer beneath to reveal and another step to take. And this, the first book, might just be my favorite (it's actually difficult to decide, because I really like the second one as well, for different reasons, and Extras was actually amazing as well). I liked how easy it is to assimilate into the world. As far as I can remember, no time is really spent explaining anything to anyone. You're just throw in with catch new vocabulary and a set of perceptions foreign to you and you have to adapt. You've got Tally & her point of view to help you out though. Tally is a fantastic main character; her motivations are ALWAYS clear to you, even when she ends up making the wrong choice or doing something she wishes she didn't have to do. Even when we know what's coming--the fact that she'll realize maybe being forced into the pretty operation isn't the only choice--we understand all of what's behind that realization.

And then there's David. How could I NOT fall in love with David? Born in "the wild" David has never even been IN a city and certainly never had the pretty-making operation. And, yet, Tally finds herself warming to him and him to her (cliche as it might be, it's still realistic once you get to the end of the series and realize the real reasons he was attracted to her at first are pretty genuine).

There's also a lot of other themes at play in this book (and the series). There are medical ethics at play and a special (literally) police force that is beyond scary and efficient in their missions. This society came about after a huge catastrophe caused by a plague that didn't attack people but, instead, attacked oil. Our civilization fell apart, died out, and are now called the rusties (because we wasted so much metal and other resources in our buildings, cars, etc.). There's an underlying theme of environmental awareness. When the Smokies cut down trees to make their homes, is that a justified waste of materials?

Tally's internal struggles--to betray her friend, to reveal the Smokies for selfish reasons vs. live a life out in the "wild" roughing it, surrounded by ugly faces--are complicated enough to keep the reader wondering and guessing. And the final showdown is unexpected and rewarding in certain ways but terrifying and shocking in others.

I highly recommend this whole series, but this book especially. It will get you thinking about what's really important, about how we instinctively react to beauty and to situations in general, about how we (as Rusties) need to be aware of what we're doing. But it will also entertain you. You can't help but love these characters, I swear.
---
Journal Entry
2
by

KateKintail

at
Fairfax Station, Virginia USA on Friday, October 31, 2014
Releasing this in my
YA Bookbox
in hopes that it will find a new reader.
---

Journal Entry
3
by

GoryDetails

at
Nashua, New Hampshire USA on Saturday, November 15, 2014
I decided to leave this book in the box for someone else, as I've skimmed this in the past, but did want to add my comments.
While I've loved some of Westerfeld's other work - I wasn't as entranced by the "Uglies" world - perhaps because it's more painful, regarding betrayals and such.
The premise of
Uglies
reminded me of a "Twilight Zone" episode, "Number Twelve Looks Just Like You" - there's a utopian society in which young people are put through a procedure to become "Pretties", but one girl doesn't want to change. Unlike the "Twilight Zone" story, the protagonist of
Uglies
, Tally, *does* want the change; it's her close friend who doesn't want it, and whose actions eventually result in Tally learning some unpleasant truths about the society she lives in. It certainly includes some powerful scenes, but I just couldn't enjoy it, despite my taste for often-horrifying dystopias!
[There's a
TV Tropes page
on the series, with some interesting tidbits, but do beware of spoilers.]
---

Journal Entry
4
by
k00kaburra

at
San Jose, California USA on Thursday, December 11, 2014
I read a copy of this book back in 2007 and wrote the following
:
Loved it.
The book is short (but it looks long enough when you pick it up) but Westerfeld has done a wonderful job of making a plausible future for us. Our obsession with beauty and being "pretty" is taken to an extreme in his society, where everyone gets a surgery at age sixteen from an ugly to a pretty. After surgery, one is given years of new-pretty where the fun and parties never end. Picture Paris Hilton, but a whole society like that. Terrifying!
This book was just utterly addictive. Loved it. Tally is flawed and not perfect, and her growth from a child who desires nothing but beauty to a young woman who understands loyalty and atonement for the first time.
A state-sponsored plastic surgery that also takes away a person's ability to think "independently" sounds like it ought to be a horror novel, but Westerfeld balances humor and makes this a disturbing, utterly believable science fiction future.
--
This book enjoyed a brief stop in San Jose, CA before continuing its journey in the YA Bookbox!
---

---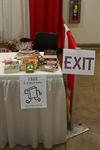 To be released somewhere in/around the Blaisdell Exhibition Hall during the
Great Aloha Run Health & Fitness Expo
.
(Larger photo
here
.)
~ ~ ~ ~ ~
I'm so glad you've found this book!
Won't you please make a journal entry to let the book's previous readers know that it's safely in your hands? How did you find it? What did you think of it? What are you going to do with it next?
It's now your book, for you to do with as you please: keep it, pass it to a friend, or maybe even leave it where someone else can find it!
If you've ever wondered where your books go after they leave your hands, join BookCrossing and you may find out: you'll be able to follow the further adventures of your books as new readers make journal entries - sometimes from surprisingly far-flung locations.
BookCrossing: making the whole world a library!
---