White City Blue
1 journaler for this copy...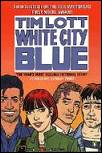 Francis Blue, 'Frankie the Fib', is a clever, street-wise 30-something estate agent in West London, and he's getting married. And that's a big problem! Because Frankie is in love with a gang of friends he's had from school, and he's not sure if he wants to give it all up, to grow up, and share his life with someone else. He's not sure if he likes Nodge, Colin & 'Diamond' Tony anymore, but they're a hard habit to break; predictable (if not reliable), and with a shared past (the mythical '14th August' anniversary), and shared secrets. In their different ways, they all use the gang to hide part of themselves away from the world, and to avoid facing up to their own independent lives & future selves. Frankie says that your habits become who you are, not the other way around? (He's wrong) In the end he does the right thing – of course - but, the real story is about breaking away, breaking the habits, accepting the right & inevitable over the familiar & moribund (Frankie does this, but also Nodge & Colin), "…a game that's been played out, an emotion that's been used up…you're a habit i've got to break" Frankie the Fib is eventually honest with himself about being scared of a future in the so-called 'real world', he lets go of the bank and lets himself be dragged along in the 'tide of events'.
I vaguely remember seeing this book years ago (1999 Whitbread 1st novel winner), but I thought it was about football hooligans, some sort of uncover expose? I was very wrong, it's a great book; evocative, philosophical, funny, sad, confused in parts – like life actually. It feels more 'real' than a box full of Hornby's, Elton's or Parsons'. Don't get me wrong, i've read and enjoyed my share of lad-lit, but this is something different, a sub-species or even a whole other evolutionary schism.
Last, but not least, some more ammunition in the war of the sexes:
"Do you know what denial is, Frankie? Duh, yeah. As I understand it – stop me if I get this wrong – its what i'm in when I say something you disagree with."
"Honesty, concern – it's overrated. It's a form of hostility."
---

Journal Entry
2
by
BookGroupMan
at
Criccieth, Wales United Kingdom on Tuesday, October 15, 2019
(14/10/19) I've re-read this before the new follow-up, which picks up the story after the events of 1998/9, looking forward to reacquainting myself with Frankie & Vronky, Nodge, Colin, and maybe 'Diamond' Tony?

On second reading, I am still blown away by the flair, power and truth in Lott's writing. Even though the mid-80's and late 90's are drifting further away, i'm happy to revisit these familiar people and times as if it were my own past. Is it me, or does the nostalgia in a book not age as badly as other media?
---