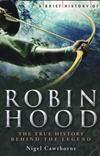 A Brief History of Robin Hood
1 journaler for this copy...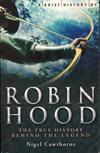 Brief History series. First published in the UK by Constable, 2010. First published in the United States in 2010 by Running Press Book Publishers. Paperback, 248 pages.
Cover design by JoeRoberts.co.uk
Back cover:
The true story behind Robin and his men, from early folklore to Hollywood
Throughout history the hooded man of Sherwood Forest and his band of outlaws have transfixed the public. But who was the real Robin Hood? The story grew out of the pagan legend of the 'green man' but found its home in England and Sherwood Forest during the reign of Richard II, the Lionheart.
In this fascinating exploration of the true tale behind the legend, Nigel Cawthorne uncovers the origins and the many truths within the story. Set in a nation torn apart by war, the hooded man was symbol of liberty in the face of tyranny, challenging the authority of the despotic Sheriff of Nottingham. Cawthorne also explores the many fascinating historical aspects of the myth: the archer in British history; the allure of the outlaw; who Maid Marion really was. And why Robin Hood has remained a hero for over 500 years
***
Took this from the book swap shelf. Robin Hood was my childhood hero who fell off his pedestal when I, finally, read
the Finnish translation
of
The story of Robin Hood and his merry men
by John Finnemore. I hated Robin, there was nothing upright or heroic in him. Heck, the guy wasn't even smart. (Well, he isn't the only one of little Tarna's heroes that turned out to be something different. I've also learned to dislike Peter Pan and Moomintroll.) Anyway, I'm interested to know what Nigel Cawthorne has to say about my former hero Robin.
Nigel Cawthorne
at Wikipedia
Nigel Cawthorne.com
---

So I was expecting a study of Robin Hood, no matter if he's a fictional or a historical figure. But Cawthorne gave me his study of the legend. I guess he was right in doing so, but I must admit I got a bit bored here and there. I didn't find much new in the book, except figures like Fulk FitzWarin and Eustace the Monk. All in all, I am glad I finally read this book.

---