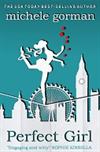 Perfect Girl
1 journaler for this copy...

Carol has it all... she's just not sure she wants it

Carol can just about keep her nose above water, but her life is sinking fast under the weight of obligations – her family treats her like their personal assistant and her boyfriend's so busy with work that he's got her single-handedly running their relationship. Not that Carol's job is any easier. As the only woman on the bank's trading floor she spends her twelve-hour days trying not to get sworn at or felt up.

But a woman can only take so much. Just when she thinks her colleagues can't sink any lower, they break their own record. When Carol spectacularly snaps, revenge is sweet, but it means dismantling her entire persona. When she does that, what's left?

Cinderella meets Falling Down in this wickedly funny tale about having it all.
---

Journal Entry
2
by
sharalsbooks
at
Mesa, Arizona USA on Saturday, May 20, 2017
Michele Gorman is one of my favorite authors in the chick-lit genre. Her stories and characters come alive with such vibrant color, the reader feels such a personal connection with the characters that it like being a participant in the story instead of a bystander.

I liked Carol immensely. She is easy to relate to with her intense desire to please everyone and though it bothered me how she is treated by the people in her life, she finds her courage and spine and comes out on top. In her shoes, I would probably be in jail facing homicide charges. It was easy for me to see a lot of myself in this story and I am sure other readers will have the same revelation.

I admired Carol for her strength of character and ability to remain sane while she is being pulled into so many different directions and then to top it off, she has to work for the boss from Hell who will throw her under the bus for his unethical behavior. She has a selfish mother and sister who think the world revolves around them and expect Carol to drop everything when they beckon and when Carol stands up for herself, the guilt trip is slathered on so thick, you could choke on it. Carol's boyfriend, Ben, is a tool. He takes Carol for granted and expects her to make all the effort in the relationship. It's a good thing he is a fictional character because when I found out just how much of a heel he turns out to be, I would have happily throttled him with my Kindle until he fell down and stopped moving.

My Final Verdict: If you are looking for a very good story about a woman who is a doormat, trying to be everything for everybody, but comes out on top, I highly recommend Perfect Girl by the very talented Michele Gorman. Don't stop there. Just read all of her books…seriously.
---