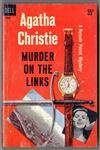 The Murder on the Links: A Hercule Poirot Mystery (Hercule Poirot Mysteries)
Registered by

Badgerjim

of
Augusta
,
Maine
USA on 8/30/2014
2 journalers for this copy...

I found this vintage paperback at a Little Free Library in Damariscotta Mills. I have just the person in mind for it...
---

I mailed this book from Farmington Falls to Delaware on Saturday.
I hope that you enjoy the book--and thanks for coming to Bookcrossing.com! When you have a moment, I'd appreciate it if you'd write a journal entry to say where this book has gone next.
---
Wow, I never even knew there was a Little Free Library in Damariscotta Mills! That's definitely on my list of places to go next year when I'm in the area again.

Badgerjim knew this book would be right up my alley because he'd caught a glimpse of my mom's Christie collection that lives in the Maine cabin. At one point Mom had a totally complete collection, but some volumes have strayed here and there since then. I don't recall if this one is still there or not. I'll take this copy up next year and leave it there in the permanent collection, if it's among the missing.

Thanks, Badgerjim!
---