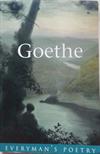 Everyman's Poetry: Goethe
3 journalers for this copy...
---
Tarjolle Kerava-miittiin.
---

I don't think I've ever read Goethe, "properly" anyway. It is high time to start!
---

Goethe's poetry is so grand, exalted and lyric that I really struggled with it at first, but then I started reading it aloud and found its essence, or what I think is its essence anyway: rhyme, rhythm and metrics. Unfortunately I only know basic German and can't read Goethe in the original language.

Reading aloud made the experience quite enjoyable. Even so, my favourites were the ones that were more down to earth than most of the selection. The one that really stuck in my mind was Erl-king. That said, I'm happy to have had the opportunity to get to know Goethe a bit better. So thanks for sharing, TiiMa!
---

Next off to CatharinaL who picked Goethe from Tarna's Runoreppu. Enjoy!
---
Journal Entry
6
by
CatharinaL
at
Pirkkala, Pirkanmaa / Birkaland Finland on Wednesday, January 10, 2018
Thanks! The book was waiting for me in the mailbox today. I'm so looking forward to reading this; my knowledge of Goethe's poetry is limited and I cannot claim ever to have been much of a fan of Young Werther or the Wahlverwandtschaften. I do know the 'Erlkönig': it's a poem that always terrified me to no end when I was a kid. It will be so interesting now to immerse a bit deeper. (This'll also make an excellent book for this year's
HelMet reading challenge
: because of 'Erlkönig', it'll be my choice for #31: "A book you are slightly afraid of reading".)
[EDIT] I think I need to prepare myself before facing 'Erlkönig'. I found this blog post and after a quick read-through discovered insights there that might actually lead to new perspectives:
https://ethosinterrupted.wordpress.com/2009/07/18/der-erlkonig/
---
Journal Entry
7
by
CatharinaL
at
Pirkkala, Pirkanmaa / Birkaland Finland on Sunday, January 14, 2018
'Erlkönig' is absolutely chilling, timeless and chilling.

I guess what I react to the most is the sheer helplessness of the father, the impossibility of saving the child. He is utterly at the mercy of the Erlkönig, not being able to do anything but ride faster, which is what he is already doing. There's no-one there to help him or his child.

Also, it's the repeated begging of the child, the crying for help, that strikes the reader. Just like with any fatally ill child, the parent feels utter helplessness and can only a) hush away such thoughts, telling the child he's wrong, trying to keep bad at bay, trying to extend the moment while time is running out, or b) acknowledge the fact and succumb to the Erlkönig. In this scenario, the father cannot do the second even if he wanted to, or knew it'd be the right thing, as he's trying to ride as fast as he can — he cannot start mentally processing the issue with the child while at the same time trying to take desperate physical action to save the child. But it seems that he isn't even ready to acknowledge the fact that the child is dying and is thus not able to alleviate the child's pain or agony; which is unfair to the child of course, and which particularly makes the reader's heart writhe. The child dies feeling abandoned by his father: the child faces the Erlkönig alone.

***
There were some other similarly strong poems in the collection, all dealing with the death of the innocent. I guess death is always emotionally stronger than visions of beauty?! Then again, much is presumably lost in translation, so much so that many classic ones appeared light-weight and less challenging in comparison.
---