High Five
2 journalers for this copy...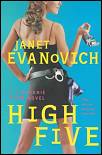 It has been quite a while since I read this book, so I'll resort to using some of the blurb from the back:-
"Janet Evanovich's characters are eccentric and exaggerated, the violence often surreal and the plot dizzily speedy: but she produces as many laughs as anyone writing crime today"
I have to say that I've recently become a little bored of these books, perhaps because I feel they are becoming a bit repetetive. However, I think that this tale of Uncle Fred's disappearance and Stephanie's attempts to "bring in bail-jumping, vertically-challenged Randy Briggs" did keep me amused.
This book is being sent to LeighBCD as a trade
---

I received this today in the mail... hooray! I am making my way slowly through this series, I will definitely read this and revert!
---

I read this very quickly... Unfortunately, it saddens me to say that I concur with you librarie that this book is not as good as the previous novels in the series. It did not really engage me although it was still funny in parts. I hope that Janet takes Stephanie in a new direction soon otherwise the series will get stale and tired.

Thanks again so much for the trade!! I am not sure what I will do with this book next, I might do something radical like actually release it into the wild!!??!! Watch this space!
---