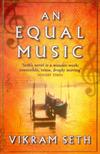 An Equal Music
Registered by

Stoepbrak

of
Cape Town
,
Western Cape
South Africa on 6/13/2014
1 journaler for this copy...
Journal Entry
1
by

Stoepbrak

from
Cape Town
,
Western Cape
South Africa on Friday, June 13, 2014

Synopsis (credit: back cover)

A chance sighting on a bus; a letter which should never have been read; a pianist with a secret that touches the heart of her music ...

An Equal Music is a book about love, about the love of a woman lost and found and lost again; it is a book about music and how the love of music can run like a passionate fugue through a life. It is the story of Michael, of Julia and of the love that binds them.

(Bought second-hand at the CAFDA Charity Bookshop, Warwick Street, Claremont.)

The book forms part of my permanent collection.

---

This is one of those books that announced itself within the first few pages as serious book-of-the-year contender.

p12: "Every rehearsal of the Maggiore Quartet begins with a very plain, very slow three-octave scale on all four instruments in unison: sometimes major, as in our name, sometimes minor, depending on the key of the first piece we are to play. No matter how fraught our lives have been over the last couple of days, no matter how abrasive our disputes about people or politics, or how visceral our differences about what we are to play and how we are to play it, it reminds us that we are, when it comes to it, one. We try not to look at each other when we play this scale; no one appears to lead. Even the first upbeat is merely breathed by Piers, not indicated by any movement of his head. When I play this I release myself into the spirit of the quartet. I become the music of the scale. I mute my will, I free my self."

My appreciation for it was sustained throughout the book — despite an occasional desire to throttle the male main protagonist — until and including the very last paragraph.
---