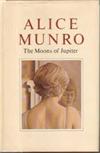 The Moons of Jupiter
4 journalers for this copy...

---

Released 5 yrs ago (6/14/2014 UTC) at Tampere, Pirkanmaa / Birkaland Finland
CONTROLLED RELEASE NOTES:
A wishlist book. Enjoy! :)

---
Wow, what a wonderful, wonderful surprise! I'm speechless: It's Alice Munro, it's on my wishlist and the book I've wanted to read, oh, so many years. Thanks ever so much, -Kata-!

***
Edited Sept. 19, 2014 that the book was nominated for the 1982 Governor General's Award for Fiction.
---
I visited some very good friends in September, spent there a weekend. I hadn't met them in quite a long time, so we decided not to do anything special. So we just relaxed, ate well, watched movies, talked, met some friends and their friends, went shopping and visited a couple of places that were new to me. It was the best of times, all so cozy, comfortable and relaxing.
Reading Alice Munro is like visiting such friends, cozy and comfortable but also bringing something new at the same time. I don't know anyone else who could create such an atmosphere. This book is marvellous, I really loved it. Thank you so much for sharing, -Kata-!
---
Released 4 yrs ago (11/3/2014 UTC) at Tampere, Pirkanmaa / Birkaland Finland
CONTROLLED RELEASE NOTES:
The Moons of Jupiter was one of the award-nominated books I put in Palkintokaappi (Finnish Forum Trophy Cabinet VBB) but it didn't stay there long. Annimanni was wise enough to pick it up. And Tarya has kindly promised to take it to her. Thank you, Tarya! Happy reading, Annimanni!
---

Oops, I got this book a week ago but forgot to journal (I blame the Christmas rush!). Thanks very much!
---

What I most like about Munro is the way she builds her characters. She's very subtle, very sharp and observant, very understated. In each of these stories there was so much emotion, but always bubbling just under the surface, leaking out bit by bit. Very powerful.
---

This book will now travel back to Tampere by way of a courier (thanks, Kipsu!) as I have tagged lukutuoli with it in the wishlist tag game on the Finnish forum. Enjoy!
---
This book returned to Tampere with the courier Kipsu, thanks a lot Annimanni!
---