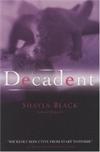 Decadent (Wicked Lovers #2)
2 journalers for this copy...

Two men are better than one…

How can a virgin seeking happily-ever-after with a hot pop star who has a penchant for threesomes win her fantasy man? Kimber Edgington desperately needs a plan to convince Jesse McCall, who's been her friend and secret crush since they spent a summer together as teenagers, that they are meant for each other. But all the tabloid stories about his sexual escapades make her feel oh-so inadequate.

Determined to prove she's woman enough for Jesse, Kimber turns to bodyguard Deke Trenton for sexual education. Bold and brash, Deke warns Kimber that playing with him is playing with fire. But he can't bear to imagine the innocent beauty in someone else's arms. So Deke and his super-sexy friend, Luc, take Kimber under their wings and dangerously close to the edge of ecstasy. Though she's saved herself for Jesse, Kimber soon learns, he's not the man adept at stoking her aching, endless need. That's Deke, and he can't resist when Kimber begs for more–and more…
---

Journal Entry
2
by
Tribefan
at
RABCK, Bookcrossing.com -- Controlled Releases on Thursday, May 24, 2018
Released 1 yr ago (5/24/2018 UTC) at RABCK, Bookcrossing.com -- Controlled Releases
CONTROLLED RELEASE NOTES:
Bookcrossing: n. the practice of leaving a book in a public place to be picked up and read by others, who then do likewise.
- from the Concise Oxford English Dictionary

Welcome to BookCrossing!

Thank you for picking up this book. Please make a journal entry on the BookCrossing site (www.bookcrossing.com) to let me know that this book has found a good home with you. You may choose to remain anonymous or to join (its free). If you join, please consider indicating that you were referred by Tribefan. I hope you enjoy the book. You can make another journal entry with your comments when you've finished reading. Whenever you're ready to send it on its way, make a journal entry if you are giving or sending this book to a known person, or release notes if you are leaving it "in the wild" again for anyone to catch. Then watch its journey. You'll be alerted by e-mail each time someone makes another journal entry. It's all confidential (you're known only by your screen name and no one is ever given your e-mail address), free, and spam-free.
---

Journal Entry
3
by

BOOKWORMINUSALL

at
Mesa, Arizona USA on Sunday, July 08, 2018
Received as part of Tribefan's Little Free Library book giveaway
https://www.bookcrossing.com/forum/10/552598/9140431 about a week ago now. Finally getting a chance to at least make Journal Entries. Was planning to distribute to my local LFL's a little at a time, but am disheartened to find that many of the LFL's closest to me that are still listed on the LFL Website are no longer operating, or perhaps have moved and not updated their information...so in addition to the few LFL's I do find that are still open, I'm planning to share some of these books with other LFL Bcers, as well. THANK YOU for your kindness, Tribefan. Hope your relocation has been going the best that it can for you. Please PM me with your new address once you are settled in. ; )
---

Journal Entry
4
by

BOOKWORMINUSALL

at
Mesa, Arizona USA on Saturday, August 04, 2018
Wild releasing to LFL as part of booklady331's August One Word Title Release Challenge https://www.bookcrossing.com/forum/23/553589

NOTE: Due to Health, was unable to release as planned...will release another time.
---