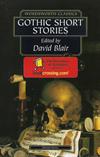 Gothic Short Stories (Wordsworth Classics)
Registered by

Tarya

of
Helsinki
,
Uusimaa / Nyland
Finland on 5/16/2014
3 journalers for this copy...

Journal Entry
1
by

Tarya

from
Helsinki
,
Uusimaa / Nyland
Finland on Friday, May 16, 2014
Late in the 18th century authors began to write 'Gothic' stories as a way of putting literature back in touch with the irrational, the supernatural and the bizarre, which had been neglected in the 'Age of Reason.'

This superb new collection brings together stories from the earliest decades of Gothic writing with later 19th and early 20th century tales from the period in which Gothic diversified into the familiar forms of the ghost- and horror-story. Work by writers such as Poe, Dickens, Hawthorne, Gaskell and M.R. James appears alongside that of anonymous writers from the start of the period and many lesser-known authors from Britain and America.

Some of these stories, like the haunting 'The Lame Priest' are 'lost masterpieces' and several have never been anthologised before. Together they cover the spectrum of Gothic story-telling - tales of madness and violence, of shape-shifters and spectres, that express some of their deepest fears of the human mind - insanity, sexuality, death and the often terrible power of the past to catch up with the present.

In a lively, authoritative introduction David Blair provides fresh insights and a detailed commentary on the stories' place in the complex traditions of Gothic writing in British and American literature.

Contents
General Introduction by Keith Carabine
Foreword by David Blair
Introduction by David Blair
Select Bibliography:
Sir Bertrand: A Fragment (1773) by Anna Letitia Barbauld
Captive of the Banditti (1801) by Nathan Drake and An Anonymous Hand
Extracts from Gosschen's Diary: No. 1 (1818) by John Wilson
The Parricide's Tale (1820) by Charles Robert Maturin
The Spectre Bride (1822) by William Harrison Ainsworth
The Tapestried Chamber (1829) by Sir Walter Scott
Berenice (1835) by Edgar Allan Poe
A Madman's Manuscript (1836) by Charles Dickens
Strange Event in the Life of Schalken the Painter (1839) by Joseph Sheridan Le Fanu
Ethan Brand (1850) by Nathaniel Hawthorne
The Old Nurse's Story (1852) by Elizabeth Gaskell
The Body-Snatcher (1885) by Robert Louis Stevenson
The Yellow Wallpaper (1892) by Charlotte Perkins Gilman
The Death of Halpin Frayser (1893) by Ambrose Bierce
Canon Alberic's Scrapbook (1894) by M. R. James
No. 252 Rue M. le Prince (1895) by Ralph Adams Cram
The Lame Priest (1901) by S. Carleton
Luella Miller (1902) by Mary Wilkins Freeman
The Bird in the Garden (1912) by Richard Middleton
The Room in the Tower (1912) by E. F. Benson
Notes on Authors and Stories
---

Kirja varattu Tindelitindalle.
---

---
Kassillinen kirjoja ja uusi kaunis kassi lähtivät Vantaalta matkaani, kiitos vain :)
---
Journal Entry
5
by
taavina
at
Raahe, Pohjois-Pohjanmaa / Norra Österbotten Finland on Tuesday, November 19, 2019
Released 2 wks ago (11/19/2019 UTC) at Raahe, Pohjois-Pohjanmaa / Norra Österbotten Finland
CONTROLLED RELEASE NOTES:
Kauheita lukuhetkiä!
---
Journal Entry
6
by

Tindelitinda

at
Raahe, Pohjois-Pohjanmaa / Norra Österbotten Finland on Wednesday, November 20, 2019
Kiitos kirjasta! Tämän matka minulle kestikin vain vuoden...
---