Christmas at The Mysterious Bookshop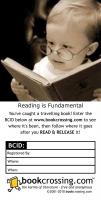 Registered by

booklady331

of
Cape Coral
,
Florida
USA on 6/14/2014
4 journalers for this copy...

Journal Entry
1
by

booklady331

from
Cape Coral
,
Florida
USA on Saturday, June 14, 2014
If you are new to BookCrossing and found this book and this site, Welcome!

You have in your hands a free gift. This book is yours to do with as you wish...read it, share it, keep it, pass it on!

I've registered this at BookCrossing.com so that I can keep up on where it goes, who reads it, and what they thought of it. If you like the BookCrossing concept, you might want to register yourself with a screen name, so that you can keep up on this book, and maybe release others also! It's all confidential (you're known only by your screen name and no one is ever given your e-mail address), fascinating, and fun!

Thank you for picking up this book. I'd love to see an entry letting me know it is safe with you. Do with it as you please... read it (or not!), give it to a friend, keep it, leave it in the wild - it's up to you! Enjoy! If you like you can mention me, booklady331, as the one who referred you.



---

Journal Entry
2
by

booklady331

at
Cape Coral, Florida USA on Monday, July 14, 2014
Enjoy! off to NancyNova for Christmas in July 2014 RABCK. Enjoy
---

Arrived today!

Adding to the TBR sooner shelf. Will not make it back out for the July 2014 Christmas Challenge, but maybe will move along for the 2015 version. Thanks!
---

intriguing idea. A bookseller commissioned a short mystery story for his customers, to give out as booklets. The author has to follow a few rules: the story must be set at Christmas, be a mystery and have some of the action occur at the bookshop.
I only heard of one of the authors before, as I don't usually read many mysteries - Mary Higgins Clark.
Now this is off to gorydetails
---

Journal Entry
5
by

NancyNova

at
~ RABCK ~, -- By post or by hand/ in person -- USA on Thursday, March 07, 2019
Released 10 mos ago (3/8/2019 UTC) at ~ RABCK ~, -- By post or by hand/ in person -- USA
CONTROLLED RELEASE NOTES:
Wishlist tag book. Enjoy!

---

Journal Entry
6
by

GoryDetails

at
Nashua, New Hampshire USA on Thursday, March 14, 2019
The wishlist-tag book arrived safely today, along with some delightful bonuses; many thanks! I've enjoyed other themed mystery anthologies, including a surprising number set during the holidays, and this one sounds like fun!
---

Journal Entry
7
by

GoryDetails

at
Nashua, New Hampshire USA on Monday, March 18, 2019
I've never been to the actual
Mysterious Bookshop
in New York, though it sounds rather like the late, lamented Kate's Mystery Books that used to honor a Charles-Addams-esque house in Cambridge, MA. The stories here all have to have some reference to the bookshop, and quite a few are set in it, so I got a nice feel for the place - though I hope it doesn't suffer quite as many crimes as this collection would lead one to believe!
I've read books by many of the contributing authors, and was pleased to recognize so many names and characters, from George Baxt's gay black detective Pharaoh Love to Donald Westlake's Dortmunder.
Many of the tales are humorous and/or extremely punny, some to better effect than others, but there are dark tales too - perhaps my favorite is the VERY bleak "I Saw Mommy Killing Santa Clause" by Ed McBain. Anne Perry's "My Object All Sublime" is quite meta, with a wannabe author going to great lengths to attract the attention of the bookshop's owner. And "The 74th Tale" by Jonathan Santlofer (an author new to me) was very chilling indeed, yet with a darkly humorous nod to the works of Poe.
---

Journal Entry
8
by

GoryDetails

at
Nashua, New Hampshire USA on Friday, April 26, 2019
---

I took this from kaila-ann's Already Been Crossed Book Box.
---