Paper Bridges: From Vietnam With Love (Signet)
3 journalers for this copy...
I got this book just for Bookcrossing and will read and or release, I don't know which yet!
---
Journal Entry
2
by
bookstogive
at
Lansdale, Pennsylvania USA on Thursday, April 10, 2014
To the finder of this book:

Welcome to BookCrossing! This book you found is now yours to read, enjoy, keep or pass on to another reader.

The BookCrossing ID, which you entered in the "Enter a BCID" box on the website, is unique to this copy of this book. We would be delighted if you would make a journal entry to say you have found the book.

BookCrossing is free to join and a great deal of fun, completely confidential, and you may remain anonymous. If you choose to join please consider using me BOOKSTOGIVE as your referring member.
---

from a huge bookbox. Looks interesting. Setting aside to read first.
---

rabck from bookstogive; written from the US author's perspective (and she started it before Diep's arrival in the US), the Vietnam portion was a little light. A soldier's lover decides to write to his ex-wife during the Vietnam war. The story is told in letters, along with fill in dialog of the author's life with 5 kids, including one with CF, and Diep's life in Vietnam as the mother of 2 Amerasian daughters during the war, and after she was abandoned by the soldier, Vietnam fell and survival under the communist regime before she was finally granted permission to travel with her daughters to the US. Heartbreaking in Vietnam for Diep.

This one is reserved for the "J" author bookring.

---

Journal Entry
5
by

NancyNova

at
RABCK in ~ RABCK ~, -- By post or by hand/ in person -- USA on Saturday, April 15, 2017
Released 3 yrs ago (4/15/2017 UTC) at RABCK in ~ RABCK ~, -- By post or by hand/ in person -- USA
WILD RELEASE NOTES:
Added to the "J" author bookring

If you aren't familiar with Bookcrossing, take a few minutes to check out this very cool site. Bookcrossers LOVE books, and more than anything, they love to read books and then set them free for other people to find and enjoy. I would love it if you would leave a journal entry -- you can say where you found the book or how you liked it when you read it. Then, when you are ready, pass it along for someone else to enjoy! Thanks and happy reading!
---

Journal Entry
6
by

Dove-i-Libri

at
Fort Myers, Florida USA on Wednesday, April 19, 2017

Received this today as part of IwillRejoice's ABC Authors Book Rings - US version - Letter J
(Link)
January 25, 2018:
Pulled this off of Mount TBR . Will use it as part of my "Reduce Mount TBR Challenge"
(Link)
, and somehow send it along as part of Booklady331's "Keep Them Moving Challenge"
(Link)
.
April 26, 2018:
Finished this book today. It's an old book, but the story sheds light into the feelings of people at that point in our country's history. Very interesting to learn history this way, my favorite way - from the views of the everyday people who are living through it at the time.
May 10, 2018:
Today this book was entered into Booklady331's Already Been Crossed VBB, Hope someone will choose it to send it on a journey!
June 20, 2020:
Being removed from Booklady331's ABC "Virtual Book Box" at this time to try to move it along! Being set aside to travel as part of a planned book ring.
---

Journal Entry
7
by

Dove-i-Libri

at
Fort Myers, Florida USA on Monday, July 30, 2018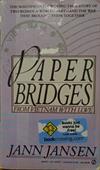 From the back of the book:
"
... No two women could have been more different. Or more alike. Jann Jensen was a California woman trying to raise her five children alone after she and her handsome but devil-may-care husband were separated.

Nguyen Thi Diep was an unwed Vietnamese mother trying to raise her two Amerasian children alone when the American she loved left her.

They had their lonely struggles in common. And something else as well. For both had loved the same man. That was the fragile bond that began the letters between them. Letters that described their so very different yet hauntingly parallel lives to each other. Letters that formed a chain of human links over twenty years of raging war and the even more terrifying "peace" in Vietnam. Letters that came to spell survival and rescue and the ultimate moment when they at last met face to face and heart to heart to put an end to THEIR Vietnam war forever …
"
---

Journal Entry
8
by

Dove-i-Libri

at
Fort Myers, Florida USA on Monday, July 30, 2018

A side note: One of Jann Jannsen's children was a little girl that she eventually lost to the battle with Cystic Fibrosis. She wrote the book
Child in White Fog
about that experience while she was studying for her Teaching and English degrees. That book discusses some very old procedures for releasing congestion in the lungs of children with cystic fibrosis.
---